When you have a great acoustic guitar, you're probably extremely satisfied with how it sounds. If it doesn't sound as good when you're performing live, then you're in dire need of the best acoustic guitar pedals.
Of course, everything starts with having a terrific acoustic guitar before anything else. Even the top acoustic guitar pedals won't improve the sound if you have a lousy guitar.
When you have such a guitar, then you can enjoy a sound that's vibrant and natural. But often, that terrific acoustic tone transforms into something downright awful when you're reliant on a microphone or an internal pickup when you're performing live.
That vibrant tone you're used to can sound flat and booming, or brittle and thin. It's can be truly disheartening to hear such a sound over the PA system when you're trying to entertain an audience.
Some places can just give you feedback issues when you play with your guitar. Other venues result in a dull and dry sound because there's no natural reverb.
The good news is that with the best guitar pedals, you're able to compensate for the changes in your acoustic guitar tone. You can balance and shape the acoustic tone that matches what you hear when you're playing on your own.
Top 6 Acoustic Guitar Pedals: Comparison Chart
Best Picks of Acoustic Guitar Pedals
#1: TC Electronic Polytune 2 Pedal Tuner
Last update on 2023-10-02 / Affiliate links (#ad) / Images from Amazon Product Advertising API
When it comes to tuner pedals, these Polytune pedals from TC electronics are popular and highly regarded. This also comes in a mini version, which means it doesn't take up as much space on your acoustic guitar pedalboard.
This comes with clear readouts, which is terrific when you're playing in dark venues. You surely will see what's going on with your strings, since this uses up to 109 super-bright LEDs.
With its polyphonic abilities, you don't even need to play and tune each string separately. Instead, you can tune all the 6 strings at once. Of course, there are other modes for fine -tuning.
And just because it's fast doesn't mean the tuning is inaccurate. In fact, the accuracy is phenomenal, with an error margin of just plus-or-minus 0.1%.
The build quality is good enough, so don't worry about any sudden breakdowns. The design is optimal, with the output jack in the left and the input jack on the right.
It also saves your preferred settings, so you only have to set things up in the beginning. When you power down and then turn on again, you get the same settings as before.
This even offers the true bypass feature, so you can be very sure there's no affecting the tone when you've put this in the off position.
What I Like
Superb accuracy at 1/10 of a percent
Can tune all 6 strings at once
Bright display for dark venues
Available in mini size
Has true bypass feature
Optimal jack locations
Solid build
Extremely affordable
What I Didn't Like
The LEDs may not be as readable in bright sunlight
#2: Ernie Ball VP Jr. P06180 250K Potentiometer
Last update on 2023-10-02 / Affiliate links (#ad) / Images from Amazon Product Advertising API
This is a volume pedal, which gives you an effortless way of going for swells or to lower or mute the volume. This is meant for passive guitars and basses, which basically means you have an acoustic guitar with standard magnetic pickups. The good thing about this is that you don't need a power supply for this, or batteries either.
It's easy enough to control this so you can set the volume you want accurately. This comes with mono volume control, along with a taper switch for 2 different swell rates.
You can put your entire foot on the pedal, giving you maximum control. It feels comfy beneath your feet, and it stays in place wherever you set its volume.
Everything's steady with this pedal, as its weight keeps it right where you've put it. At the same time, the grip also works to keep your foot where you need it to be.
The materials used here should last a while, with a half-inch diameter stainless steel for the main pivot shaft. At both ends of this, you have precisely set nylon bushings. The cables are made of Kevlar.
This gives you a lot of value for your money, because lots of volume pedals are just as good as this one. It's just that they're mostly set at 3 times the price of the P06180.
What I Like
No need for power supply
Great volume swells
Optimal control of the pedal
Easy to use
Solid build
What I Didn't Like
This is quite large
Not for "active" instruments
The insides are exposed
#3: TC Electronic Hall of Fame Reverb Pedal
Last update on 2023-10-02 / Affiliate links (#ad) / Images from Amazon Product Advertising API
Yep, we're back with TC Electronics. This time we're going with their reverb pedal. Plenty of famous musicians over the last 2 decades have gone with TC Electronics for their reverb effects, so you can be sure the TC folks know what they're doing.
This comes with 10 different reverb effects, so feel free to try each one out. You then have 3 controls (level, tone, decay) to tweak each effect to your liking. If you're looking to really experiment with different tones, then this is among the best effects pedals for acoustic guitar you can get.
You can use the routing option you want with this, and it comes with the analog dry-through so an unaffected dry signal can be mixed in. It also has the true bypass feature, ensuring that you don't lose any of your high frequency tone.
This isn't as large as you might think, measuring about 2.8″W x 4.8″D x 2.0″H. It should fit nicely on your pedal board.
It's thoroughly modern, since it even works with an app. Just download the TonePrint app (it's free) for your Android or iPhone. Pick the TonePrint you want to hear, then set it from the phone through the pickup to the pedal.
What I Like
Plenty of reverb options
Works with TonePrint app
True bypass
Compact
Virtually silent (no change in tone and volume when engaged)
What I Didn't Like
You need a separate 9V adapter for this
#4: TC Electronic Body-Rez Pedal
Features
Ultra-compact acoustic guitar pickup enhancement pedal offers studio-quality acoustic tone and built-in feedback suppression
Specifically designed to restore your guitar's natural acoustic resonance when using under-saddle pickups to give you a superb studio-quality acoustic guitar tone
Phase control footswitch mode offers an easy and effective way to kill low-frequency feedback
Sophisticated filters and subtle compression seamlessly bring back the natural playing feel and acoustic ambiance of your guitar
Extremely simple one-knob control lets you focus on playing
Last update on 2023-10-02 / Affiliate links (#ad) / Images from Amazon Product Advertising API
Are you using under-saddle pickups with your acoustic guitar? Chances are, when you're plugged in you lose the natural resonance you're used to from your musical instrument. Somehow, the sound gets flatter when using most pickups.
If that's your problem, this is the solution. Basically, it restores the "woody" sound that you want from your acoustic guitar. This also has a feedback suppression built-in, and that's another problem avoided.
With these advantages, this may be among the first pedals to get guitar newbies. After all, you may just want to get that natural acoustic sound you've lost.
This is a compact pedal, though it doesn't use batteries. At least you also get your 9V adapter with the purchase, so you don't need to buy it separately.
What I Like
Restores natural acoustic sound
Suppresses feedback
Compact
Comes with 9V adapter
What I Didn't Like
No battery option
A bit more expensive than usual
#5: Donner Multi Effect Pedal Chain Alpha
Features
🎸[3 in 1 Effect Pedal] Donner Alpha Acoustic has 3 must-have effects in one stompbox.
🎸[Acoustic Preamp] Analog Preamp with 2-Band EQ provides a warm, natural sound.
🎸[Adjustable Chorus&Reverb] Chorus delivers a natural sense of space. Hall reverb has rich spaciousness and natural decay.
🎸[XLR Output] XLR output for directly connecting to Mixer and more.
🎸[Power Supply] Power adapter is included in the package.
Last update on 2023-10-02 / Affiliate links (#ad) / Images from Amazon Product Advertising API
Plenty of pastors say that this is the best multi effects pedal for worship they've used, but you don't need to be religious to appreciate this. If you're looking for a pedal that gives you 3 effects, then your prayers have been answered.
This works as an acoustic preamp, and also as a hall reverb and a wistful chorus. The tone is terrific, while it's portable and easy to use. when it comes to saving space and money, this is among best effect pedals in the world.
With the preamp module, you're able to enhance the tone of the acoustic guitar. The reverb gives a spacious vibe, while the chorus offers a warm atmosphere. There's an LED indicator telling you the mode, while you also get the true bypass feature.
This is quite compact, but it's durable as well. The full metal shell is made from aluminum alloy. Your purchase includes the DC9V power supply, and a ¼-inch mono audio jack.
All in all, if you're a newbie looking for your first pedal, consider this one. A lot of people say that it's among the best acoustic guitar pedals for beginners.
What I Like
Clean sounds
Solid build
3 effects in 1
Compact design
What I Didn't Like
Use very little reverb—it's just too powerful
No battery use option
#6: MOOER Acoustic Guitar Effect Pedal
Last update on 2023-10-02 / Affiliate links (#ad) / Images from Amazon Product Advertising API
This is a compressor, which means it sets your volume highs and lows to more reasonable settings. That way, you won't fingerpick too softly or annoy people with your raunchy guitar strumming.
At its price, this really can't be beat. It does what it's supposed to do (compressing the volume settings) without affecting the tone in any other way. It's easy to dial in, and it should last for a very long while.
What I Like
Extremely affordable
Works as it's supposed to (as a compressor)
Doesn't affect the tone in any other way
Easy to dial in
Works with humbucker and single coil pickups
Compact
What I Didn't Like
Some people just don't like the Chinese origin of the brand
How to Choose the Best Acoustic Guitar Pedals
With so many pedals available, it can be quite discombobulating having to pick from all these options. You should check out more experienced guitar players in your social circles to see what they recommend. Better yet, try out any pedals they may have.
Of course, when you're online you need to check out the pedal specs and the acoustic guitar pedals reviews written by customers. Read the information carefully, with a particular focus on the following factors.
Price
Like aby good consumer, you can't neglect the price as one of your more important factors to consider. There are plenty of good pedals, true, but many of them come with rather prohibitive price tags.
On the other hand, the guitar pedal industry is awash with a veritable host of cheap pedals that aren't all that good. Annoyingly, these cheap pedals just end up wasting your money.
The good news is that you can also find pedals that are both affordable and good.
Type
Exactly what kind of pedal and effect do you want for your acoustic guitar? There are plenty of types to choose from, and listing them all can take a while. In fact, even the "effects pedal" category has plenty of different options, because there are simply a lot of different effects that you can get.
Some pedals are even guitar multi effects pedals, and they're able to combine different effects into a single gadget. That may be a good option, provided that all the types it contains are good for your needs.
Sound
This one is very hard to quantify, and it's also very subjective. What one likes, another might hate. It's also very difficult to describe exactly how a tone change or effect really sounds.
You may want to check the return policy for the pedal, so you can test it when you order your pedal online. If it's not the sound you like, try to exchange it for something else.
Features
Even pedals that are part of the same category may offer different features, depending on the brand and model. Check out the features and see if they match your preferences.
Having plenty of features is great, as long as you'll use them. If you're not using these features, then you're basically paying for things you won't need.
Ease of Use
Just how well does the pedal work? The pedal should let you make your changes accurately, so you get precisely the tonal vibe and effect you want. Also, you should be able to make your changes and adjustments quickly. When you're performing live, you can't just fiddle around.
The size is also an important factor here. You may not want it to be too big, especially if you're using a lot of pedals. You'll have to carry these things to your performance venue, and it can be annoying having to deal with too many large pedals.
Durability
Of course, these things should also last a while. Check out the quality of the materials used, and read customer reviews for any complaints regarding frequent or early breakdowns.
Different Types of Acoustic Guitar Pedals
You may not need all these pedals all at once, but it's pretty much a certainty that using some of these pedals will improve the sound of your live shows. Here are some pedals you ought to consider:
Even a clip-on tuner may not be of much help when you're playing live when it comes to keeping your strings in tune. Using this pedal is much easier, and it also helps you keep track of which strings are becoming out of tune. The tuner pedal also lets you mute your guitar, so you won't sound like a wanna-be poseur when you're performing.
Plenty of performing venues don't offer adequate reverb, which is a real problem with an acoustic guitar. You'll end up with a flat tone instead of the vibrant sound you want. This pedal lets you set the reverb level you want based on the size of the venue and the sound you're aiming for. Even if your acoustic amp has a built-in reverb, it's better to have the dedicated reverb pedals you can easily adjust.
When you're playing live with an acoustic guitar, the volume of your music can be too weak to hear or too loud to enjoy. When your volume ranges from 0 to 100, then you may have a 5 volume when you're fingerpicking and then jump to an uncomfortable 98 volume when you're enthusiastically strumming.
With the compressor pedal, you're able to compress the highest and lowest volume settings to more comfortable levels. That means you may be able to maintain a 60 volume when you're playing softly, and then go to a comfy 80 volume when you want to play loud.
This pedal may seem unimportant, since you already have a volume knob on your guitar or on your amplifier. But this pedal lets you control the volume more easily and with greater accuracy. You can even place it after the distortion, so you can reduce the volume while the signal is fully distorted.
These are the pedals which add to the sound. You can get reverb and chorus pedals, along with other pedals that add other special effects.
Who Makes the Best Acoustic Guitar Pedals?
There's no single answer for this question, unfortunately. It all depends on what type of pedals you need, your budget, and the kind of sound you're aiming for. There are just too many good brands offering many different types of pedals at various price ranges, giving you just about any kind of sound you can get.
Top Acoustic Guitar Pedals Brands
There are probably more good brands offering terrific guitar pedals than there are car brands in the world. In other words, there are lots of these brands around.
Let's focus on the brands we put on our list:
TC Electronics. This brand has been around since 1970, and they first made their mark on the pedals industry with their Stereo Chorus/Flanger (SCF) guitar pedal. This was so revolutionary that it remained in production for 40 years, and people still look for it today among the classic guitar pedals. Their other successes include the TonePrint Pedals that work with a smartphone, and the PolyTune, which was the world's first polyphonic guitar tuner. The popular Ditto looper also became the must-have practice tool for guitarists everywhere.
Unlike other Chinese brands, Mooer is more concerned about offering high quality products instead of just making cheap items. That's not to say that they don't sell affordable pedals. It's just that they're good pedals—they focus on digital sound instead of the usual analog. They're also focused on making smaller pedals, and their Micro series of digital stompboxes were runaway bestsellers.
This brand has made a name for itself in the affordable price range for pedals, ever since they started offering pedals in 2012. They offer smaller pedals for people on a tight budget, but the sound you get can compare to what more expensive pedals are offering.
Ernie Ball. The Ernie Ball band is a well-known name in the guitar accessories industry. They sell strings, straps, cables, picks, and of course, pedals.
Why Use Guitar Pedals?
The answer is simple—they improve the sound your acoustic guitar makes during live performances.
Venues can just zap away the naturally vibrant acoustic tone you hear when you're not plugged in when playing the acoustic guitar. The sound can be quite disappointing, but the guitar pedals give you back the control over your acoustic tone.
With these pedals, you can solve problems a lot more efficiently, with just a simple tap from your foot.
Why a Guitar Tuner Pedal is Essential for Acoustic Guitar?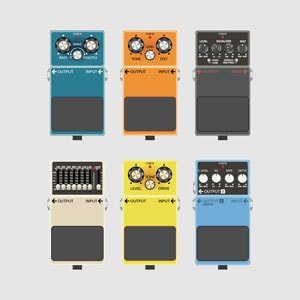 If you're a serious acoustic guitar player, you're likely to have a clip-on tuner at the ready so you can keep your guitar in tune. So it's natural if you're wondering why you'd ever need a guitar tuner pedal for your acoustic guitar.
But when you're playing live, you may find it time-consuming. With a guitar tuner pedal, you can know right away if any of your strings are out of tune. Then you're also able to use it to tune the guitar more quickly.
Another reason to get a guitar tuner pedal is that they maintain your professionalism when you're playing live. Sometimes during a live performance, you may accidentally create sounds that make you seem like an utter amateur poser.
Perhaps you're futzing around with your capo, or you're switching guitars. During these times, you can cause unwanted noise created by your guitar. In some cases, you just get some feedback for whatever reason.
On these occasions, it's great that you have a guitar tuner that lets you mute your guitar in an instant.
The guitar tuner pedal also prevents you from looking like a schmuck as you keep on plucking the open strings between songs while you check or adjust your guitar tuning. Now with this pedal, you're able to hit the footswitch to adjust your tuning in silence.
Distortion Pedal vs Overdrive Pedal
While a lot of people seem to think that the distortion and overdrive pedals are very similar (or even the same), they're actually quite different.
You use distortion pedals for enharmonic overtones, which basically adds more complexity and sustain for your tone as you increase the distortion. With the best distortion pedal, you get the tones that fit right in with the heavy metal and hard rock genre. That's why distortion is considered among the essential guitar pedals for rock.
In contrast, the harmonic overtones you get from the overdrive pedal is less dissonant. The overdrive effect is what you get when you put in too much power in a tube amp.
The overdrive sound is great when you're playing music that doesn't really need a lot of distortion. So you can use this for country music and the blues, and even garage rock.
When you're picking your guitar pedals, you're not limited to choosing either a distortion or an overdrive pedal, however. You can use them together, as you can use the overdrive to boost the gain of the distortion pedal. That way, your best acoustic solos and lead lines get more volume and sustain.
How to Use a Guitar Pedals
The steps on using a guitar pedal obviously depends on what type of pedal you have. On the other hand, hooking the pedal involves the same steps regardless of the pedal type.
Power your pedal. It's best if you plug your pedal into an AC outlet, rather than go with batteries. The problem with batteries is that they may die out when you're playing, and that can get embarrassing. Some pedals come with their own 9V power supply, while others may require an external power supply.
Plug in your guitar chord. Usually, you'll need a ¼-inch (6.4 mm) guitar cord for most pedals. Just stick one end to your amp and the other end into the output jack of the pedal. Obviously, the cord has to be long enough for this.
Connect various pedals to one another. You can use a guitar cord for this, by plugging the cord into the output jack of one pedal, while the other end of the cord is put into the input jack of another pedal. You can actually connect any number of pedals with this method. The last pedal in the lineup connects to the amp.
Connect the guitar to the pedal. You're going to need another cord for this. You insert the cord into the input jack of the first pedal in your lineup. Then you connect the other end of the cord into the jack in your guitar.
How to Set Up and Use Effects Pedals with Acoustic Electric Guitars
Sure, the natural sound of an acoustic guitar is appealing. That explains why it's so darn popular in the first place.
But sometimes you may just want something different and interesting. You can then just go with effects pedals that work well enough with your acoustic guitar. It virtually transforms your instrument, and your music itself.
Of course, you'd want to make sure that you set up and use your effects pedals properly so that you get interesting changes to your sound. Here are some tips that can help with a variety of different effects pedals:
Stereo chorus pedal:
With stereo chorus, it's as if your guitar just got bigger. This effect makes some parts of a song really stand out. Of course, you can really crank it up so you get really extreme effects. But for the acoustic guitar, the general rule is that subtlety is better so that the chorus doesn't overwhelm the acoustic tone. So it may be best to just maintain a low mix.
You should also match the depth and speed of the chorus to what a song needs.
Phaser pedal:
This pedal can produce some very interesting effects, so you need to experiment with it a lot. This way, you can check out the extremes in the phaser range, going from a full psychedelic sound to something a bit more subtle. The speed of your phaser should also match the "vibe" of the song you're playing.
Delay pedal:
Try a stereo delay setup, so you can hear the delay bounce between the speakers. This sure isn't boring, and it's a brilliant way to add some oomph to your music. The delay works very well with sustaining chords, arpeggios, or just soft portions of the song. You're able to build up and fill out your tone.
On the other hand, if you're strumming the strings hard, then the delay may not be a good idea. You can just end up muddying the sound you make.
Flanger pedal:
The effect sound like a jet is taking off, and that's not really something most acoustic guitar players want for their sound. But that's really only when you crank up the flanger pedal.
Use a balanced mix and a slow rate, and you won't have to overwhelm the original tone. Instead, the tone can become sparkly and shimmery. You can also use flanger for subtly for your strumming.
Uni-vibe pedal:
If you've heard how psychedelic the sound of Jimi Hendrix and his guitar, then you know how the Uni-vibe sounds. The good news is that you can use this for acoustic guitars too.
If you boost the intensity and speed of the Uni-vibe, the acoustics can seem somewhat liquified, and you may like this effect when you're fingerpicking. You can also go with a much slower level, so when you hold your chords you make it sound like a warble that's gradually pulsating.
This comes with a chorus mode, but you should also check out the vibrato mode. There may be time when the vibrato may be your better option.
Reverb pedal:
Many consider this to be among the must-have guitar pedals for acoustic players. With this pedal, you can enhance your tone in an understated way. Try this way when you're fingerpicking or playing sustained chords so you get a lush background.
But you can also go to the other extreme and completely change the vibe of your sound. You can use a stereo reverb to spread the tone further out.
Also, experiment with different sequences for your acoustic guitar effects setup. You may find that one sequence may be better than the others.
Final Verdict
So which of these pedals do you get? Well, why not all of them? Heck, some guitarists have 8 or 9 pedals all lined up.
However, if you're limited to just one, then you should consider the Donner Multi Effect Pedal Chain Alpha. These give you 3 essential pedals for acoustic guitar in a single package. You get the preamp that restores the acoustic sound, then reverb and chorus for interesting effects.
However, you should really consider all of these pedals on the list. We weren't joking when we say that these are the best acoustic guitar pedals you can get for your money!
Frequently Asked Questions
What's a true bypass pedal?
The problem with a regular pedal is that even when it's "off", the signal still passes through its circuitry. This can lead to a loss in high frequencies.
A true bypass pedal has a secondary circuit, so that the signal cleanly bypasses the pedal circuitry without any high frequency loss.
You probably don't have a good amplifier. Also, you need a good acoustic guitar as well. These are the foundational equipment you need before you can make use of pedals properly.
Can I use a distortion pedal with my acoustic pickup?
That really depends on the pickup you have. Most of the time, you should check for real to be safe.
The general rule, though, is that a distortion pedal doesn't really work well with a piezo. Sure, a piezo lets you play your guitar louder without worrying about feedback. But when you factor in the distortion pedal, feedback becomes a distinct possibility with a piezo.
The piezo sound is also a bit too harsh and compressed for the distortion pedal, so the tine just gets worse.