Looking for the best Fender guitar? Look through our top picks, and check out our tips on how you can make your final choice. Just because you've decided on Fender as your guitar brand of choice doesn't mean you're done. That's because Fender offers a very long list of excellent guitars, and it won't be as easy to settle on just one as the best Fender guitar for you.
Top 6 Fender Guitars: Comparison Chart
Best Picks of Fender Guitar
Here are some of the top Fender Guitars you should look at:

# 1. Squier by Fender Affinity Series Telecaster Beginner Electric Guitar (Race green)
Last update on 2023-10-01 / Affiliate links (#ad) / Images from Amazon Product Advertising API
We're very much aware that this guide is often consulted by newbies, since old pros tend to know right away what Fender guitar they want. Since you're a newbie, you can do yourself a favor by getting a model that's specifically designed for beginners.
This also carries the Squier brand, which basically means that it's the affordable version of the original Fender Telecaster.
This comes with the C-shaped neck profile that's very common in the guitar industry. It's a very "vintage playing feel, since this neck profile (and the Telecaster itself) has been around since 1951.
More importantly, it's a very comfortable design to play, and you're able to use it nicely for many types of musical genres.
This also comes with a 6-saddle bridge. With 6 individual saddles, you're more able to tune each string more accurately.
You also have sealed die-cast tuning machines so that you can tune more accurately and much more smoothly.
Here you get the 2 Squier single-coil Tele pickups. It also features the master volume and tone controls, along with the 3-way toggle switch.
As for the wood materials, here you have poplar for the body and maple for the neck and fretboard. The poplar offers a similar tone to alder, with a meaty sound with nice resonance.
The build quality here is astonishing, considering that it's supposed to be a cheaper version of the "real" Telecaster. You don't really have much to change and improve, except maybe to sand the fret edges lightly to make them smoother.
You'll be pleased that the frets are generally level and the neck is straight. The action is great, so even more advanced guitarists won't really have anything to complain about.
Highlighted Features
Dual single-coil pickups
Poplar body with maple neck and fretboard
C-shaped profile neck
6-saddle Telecaster bridge
Sealed die-cast tuning machines
What I Like
Superb build quality
Comfy neck to play with
Easy to tune individual strings
Pickups give you classic Telecaster sound
What I Didn't Like
Fret edges need light sanding
May come with a sticker that may mar its looks
# 2. Squier by Fender Affinity Series Stratocaster HSS Electric Guitar
Features
Slim and comfortable "C"-shaped neck profile
Loaded with a Squier humbucking bridge pickup and single-coil neck and middle pickups for genre-defying sonic variety
Vintage-style tremolo bridge for expressive string-bending effects
Sealed die-cast tuning machines for smooth, accurate tuning
Satin neck finish
Last update on 2023-10-02 / Affiliate links (#ad) / Images from Amazon Product Advertising API
Again, we have the Squier brand here denoting that this is the more affordable version of the "real". And again, Fender proves that just because you're getting something affordable doesn't mean that you're not getting something good.
In fact, it's darn good. This maybe even be the best Fender Stratocaster for the money if you're a newbie.
We even picked the Fender Stratocaster HSS configuration instead of the usual 3 single-coil pickup configuration. This time, you have a humbucker for the bridge to go along with the single-coil pickups at the neck and middle.
This humbucker gives you that fat warm, fat tone while the sound remains balanced. This HSS configuration is great if you need more overdrive when you play your guitar.
This comes with a poplar body along with the laurel fretboard. The poplar makes it more lightweight, so it's easier for a newbie to handle and play.
As for the laurel for the fret, it offers the closest tone and feel to rosewood without being actually rosewood. It's an alternative since rosewood is considered endangered (though regulations allow its use for guitars).
Aside from the lightweight body, the slim C-shaped neck is also very easy to play for newbies. You should be able to do your chords without difficulty, while switching from one chord to another should be easy as well.
Also, you get a tremolo bridge here which offers a closer sound to a Strat than a hard-tail. It may pose a challenge for beginners, but it's just another challenge to overcome.
Highlighted Features
HSS configuration (humbucker with 2 single-coil pickups)
5-way tonal selector
C-shaped neck
Poplar body with laurel fretboard and maple neck
What I Like
Humbucker gives you that fat, warm tone with the balanced sound you want
Neck is very comfortable to play
The lightweight body makes it easier to handle
Great quality
What I Didn't Like
Limited color options (just 2)
Tremolo bridge may be harder for newbies
# 3. Fender Affinity Stratocaster Beginner Pack
Features
Comfortable "C"-shaped neck profile
One humbucking bridge pickup; two single-coil Strat pickups
Vintage-style tremolo bridge
Includes free 3-month subscription to Fender Play, padded gig bag, Frontman 15G guitar amplifier, instrument cable, instrument strap, picks
Available in Brown Sunburst or Candy Apple Red
Last update on 2023-10-02 / Affiliate links (#ad) / Images from Amazon Product Advertising API
Newbies often have trouble putting together the right accessories with their guitar. The worst-case scenario is when you get the accessories that don't even work with your guitar.
The good news is that Fender has conveniently put in a nice beginner's package so you can be very sure that every accessory here works with the guitar. If you're looking for the best Fender Guitar for the money, then you'll like this option.
The guitar in this case is the Squier by Fender Affinity Series Stratocaster HSS, which means your Squier is the affordable version of the "real" Stratocaster. This version does give you the humbucker pickup at the bridge to go with the single-coil pickups at the neck and middle.
To look over the features of this guitar, just check out the previous entry on this list. That way, we won't be repeating (or copying and pasting) stuff we've already mentioned.
What you just need to know is that this particular guitar gives you a Stratocaster sound and feel, while also offering features that make it easier for newbies to play. That's the gist of it.
What's new here are the accessories, so we'll cover those. You get a convenient strap, picks, and a dependable 10-inch cable.
The only thing missing here is the clip-on tuner. Also, some starter packages also come with extra strings.
As a newbie, you'll appreciate the padded gig bag so that you can easily bring along the guitar when you travel. The pads protect the guitar from accidental bumps, and in any case it's a handy place to store your guitar in when you're not using it.
Then you have the Fender Frontman 15G amplifier, with its 15W of power with clean and overdrive channels. This comes with a headphone jack so you won't bother the others in your home when you practice.
This amp also has an aux input, so you're able to connect your mp3 player or your smartphone so you can play along with your backing tracks or favorite tunes. That also means you have a nice speaker for your smartphone too.
There's no manual here, but then that's what the Internet is for. The good news is that this particular package even offers a 3-month subscription to Fender Play.
Fender Play is the online platform that offers you lessons on how to play your electric guitar. You're able to learn at your own pace, and you can focus on any music genre you want.
You can even learn songs quickly, so that you can strum and sing along to your favorite tunes in no time. This is great for newbies, as it encourages you to practice more as you're able to see right away the fruits of your labors.
Highlighted Features
Squier by Fender Affinity Series Stratocaster HSS
Guitar comes with humbucker to go along with 2 single-coil pickups
Accessories include a padded gig bag for easy portability and handy storage
You also get a strap, a 10-foot cable, and picks
There's also a 15W amp, with aux input and headphone jack
What I Like
The guitar comes with the humbucker for more overdrive
The guitar is also designed to make it easier for newbies to play (with slim neck and lightweight body)
The padded gig bag protects the guitar when you travel with it
The cable, picks, and strap save you the trouble of buying them separately
The 15W amp is more powerful than other starter amps
The amp also allows you to connect your smartphone and use a headphone
What I Didn't Like
Where's the clip-on tuner?
No extra strings
# 4. Fender Affinity Telecaster, Butterscotch Blonde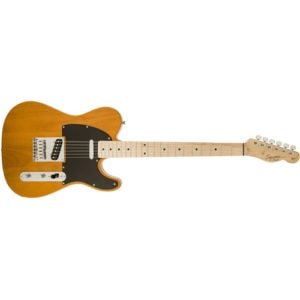 We've already covered this guitar (see the first review on this list), but then we saw this Butterscotch Blonde color scheme and we fell for it right away.
It's not just a matter of aesthetics, even though plenty of people l tell you that this color is just better than the Race Green version. It's also a matter of impression.
You see, there wasn't really a color like this when you check out old Fender catalogs from the 1960s. What you'll find is a Natural Blonde option, with a white translucent nitro finish.
What happens is that over the years with the exposure to the environment and UV light, you end up with the Butterscotch Blonde color.
Basically, with this option it feels like you're playing a vintage model that's been around for decades, except that the wood, electronics, and hardware are all brand new. You get a modern guitar with a true vintage look.
Highlighted Features
Butterscotch Blonde
Dual single-coil pickups
Poplar body with maple neck and fretboard
C-shaped profile neck
6-saddle Telecaster bridge
Sealed die-cast tuning machines
What I Like
Great vintage look
Superb build quality
Comfy neck to play with
Easy to tune individual strings
Classic Telecaster sound
What I Didn't Like
You may need to sand the fret edges
# 5. Squier by Fender Affinity Series Stratocaster Electric Guitar
Last update on 2023-10-02 / Affiliate links (#ad) / Images from Amazon Product Advertising API
Yes, we've mentioned this previously, but this time we're focusing on the standard Strat configuration instead of the HSS. Also, we tried the left-handed version.
We're not going to repeat what we've already mentioned previously. Just note that this comes with the "C"-shaped neck profile, vintage-style tremolo bridge, sealed die-cast tuning machines.
You also get the lightweight poplar body, laurel fretboard that's very similar to rosewood, and maple neck.
So, what's different? Let's start with the 3 Squier single-coil Strat pickups. It's true that these single-coil pickups have been largely replaced by the humbuckers, which minimize the hum (hence the name).
But lots of people still go with the single-coil pickups because these offer a brighter tone. Also, the tone is more consistent across pickups.
Finally, this comes with a left-handed version. Lefties can thank Fender for this option, because it's much better than learning to play a guitar meant for righties.
If you're left-handed, you may have noticed that not all guitar brands offer a left-handed version for their guitars. Even Fender has models that don't come with an LH version.
Lots of brands don't offer LH versions because lefties only make up 10% of the population. It's too troublesome to flip the design with such a limited demand.
Highlighted Features
"C"-shaped neck profile
Vintage-style tremolo bridge
Sealed die-cast tuning machines
Poplar body, laurel fretboard, and maple neck
3 Squier single-coil Strat pickups
What I Like
Has left-handed version
Single-coil pickups offer brighter tone
Neck is easy to play
Lightweight body is easy to handle
No endangered wood on the fretboard
What I Didn't Like
You don't get the fat, warm tone of the humbucker
No accessories for newbies
# 6. Fender Player Telecaster HH Electric Guitar
Last update on 2023-10-02 / Affiliate links (#ad) / Images from Amazon Product Advertising API
This may be offered as a starter guitar, but it's very different from your usual Fender Guitars for beginners. In fact, it's a workhorse guitar that plenty of pros would like to own.
This comes with dual humbuckers that give you a wide range of tones and sounds. This means that you can really play this for just about any music genre, including hard rock or metal.
You also get that traditional alder body, which offers a bright and resonant tone. You get terrific sustain and great upper midrange.
You also get the bent-steel saddles for the string-through-body bridge. This feature enhances the iconic bite and twang of the Telecaster.
Still, this is easy enough to play, especially with that slim C-shaped neck. The neck is also made with the traditional maple, with a smooth finish and comfy shape.
Even small hands won't have any trouble making chords here, and you even get a 22nd medium jumbo fret.
Highlighted Features
Alder body wood
C-shaped maple neck
Dual humbuckers
Bent-steel saddles
What I Like
Enhanced bite and twang
Fat tones from the dual humbuckers
Bright, resonant tone from alder body
Slim neck that's easy to play
Very reliable and durable
History of the Fender Guitar Brand
Fender has always been a trailblazer in the guitar industry. Here's a timeline of the brand's achievements and key events through the years:
Leo Fender establishes the Fender Musical Instruments.
This is a crucial year for Fender, as it marks the release of the Telecaster guitar model. This is also when the brand launched their Precision Bass and their Bassman amp.
This is the year Fender unleashed the Stratocaster, which will eventually become the most famous and most recognizable electric guitar of all time. It features included a comfy shape, innovative electronics, a built-in pitch-shifting vibrato system, and a versatile sound that many guitarists through the years will love.
The Ed Sullivan Show was the most popular TV show at the time, and countless millions of people saw Buddy Holly and the Crickets perform their hits "That'll be the Day" and "Peggy Sue" with a sunburst Fender Strat.
This is the year the Jazzmaster was released. While it as made to fit the needs of jazz musicians, it would become more famous later on as the favorite guitar of numerous indie rock musicians.
This is the year of the Jazz Bass. In contrast to Fender's Precision Bass, its tone is more focused, with a brighter midrange and less lows.
While the Fender amps at the time were already the standard for the music scene, Fender releases new techs for their tube-driven amps such as built-in effects and a wide range of output capabilities.
Acoustic rock god Bob Dylan shocks the world by going electric at the Newport Folk festival. It isn't surprising that he uses a Strat.
Jimi Hendrix is the most memorable act for the legendary Woodstock festival. He uses his Strat to play "The Star-Spangled Banner".
Punk rock enters the music scene, displacing disco as the preeminent musical style of the day. Bands such as the Ramones, the Sex Pistols, the Clash, and Talking Heads all used Fender guitars (though Fenders were used for disco too).
The MTV music launches, and the first video ever to feature an electric guitar showcases a Strat.
Nirvana launches the grunge music scene with the Nevermind album. In hits such as "Smells Like Teen Spirit", "Come As You Are", and "Lithium", you'll hear Fender guitars playing.
Where Are Fender Guitars Made?
The Fender brand owns 2 manufacturing facilities in California and Mexico. So, if you have a Fender guitar, it was made in either of these places.
The main exception to this is the Squier guitars that Fender uses for the more affordable variants of the Fender guitars. While these can be made in the US and Mexico, they may also have been manufactured in Japan, China, Korea, Indonesia, or India.
For lots of people, the Fender American Professional Stratocaster is the best bet. But you can save a lot of money if the guitar is manufactured outside the US.
What Makes the Best Fender Guitar for Metal?
Fender has long been associated with rock music for decades, and plenty of metal heads go with Strat guitars to produce that high-gain, detuned tone they want for their music.
Here are some features that you should look for in a Fender if you want to use it for metal music:
Alder body. Alder offers that crisp midrange sound that most people associate with the Strat. While basswood and ash may make for acceptable alternatives, you can't go too far from alder characteristics if you want that particular tone.
Maple necks. Again, this is to maintain the classic tone you want.
Having 3 single-coil pickups is the classic option. But for metal, you need a hot, fat humbucker at the bridge.
Fender offers the Floyd Rose tremolo, which gives you the terrific tuning stability you don't get with the standard synchronized tremolos. You can play aggressively and bend the strings all willy-nilly, and the strings should still maintain its proper tuning.
Hot looks. Fender guitars can look flashy and aggressive, which is just right for metal. While Fender Stratocaster black is great, you should check out other color schemes, though.
Things to Consider Before Buying the Best Fender Guitar
Deciding on the best guitar on the market can be a rather contentious debate among numerous Fender fans. It can also become rather technical, which can be confusing for a lot of newbies.
If you're knowledgeable about Fender specs and technical details, you don't really need us to tell you what you already know.
But if you're a newbie, we can offer a clear guide without getting into overly complicated technical details. Of course, you can do your own research on electronics, hardware, and wood options if you want.
Here are some factors you need to focus on:
Price
Like any responsible consumer, you always need to keep your purchase within a reasonable budget. Of course, this just leads to the question of what a reasonable price is for you.
Generally, you should stick with a price range that matches your playing ability. This means you go with the most affordable Fenders if you're new to electric guitars, and maybe you can upgrade to a more expensive model once you get a lot better.
If you're a true guitar professional with decades of guitar-playing in your past, then you might want to save up for some of the more expensive Fender models. Your advanced playing ability won't mean squat if you're stuck with the limited capabilities of the more affordable models.
Designed for Your Playing Level
Fender conveniently tells you what kind of player each model is made for. You'll know which of their guitars are for newbies, for intermediate players, and for pros.
Fender guitars for newbies aren't just affordable. They also are easier to play and handle, which makes them more suitable for beginners.
Some beginner guitars even come as part of a package, so you also get accessories such as a gig bag, a strap, picks, or maybe extra strings. You may even access online lessons.
The more advanced guitars may be more complicated to play, but then if you're an advanced guitarist yourself then you don't have anything to worry about. Check the Fender Guitar reviews from customers to see which challenges may arise from particular models.
So, just pick one that matches your playing level. What's really nice about some Fenders is that they're built so that you can still stick to the same model even when you get better.
Follow Your Heroes
Who are your music idols? One simple tip is to just pick the guitar that your music hero plays.
This way, you know just what kind of sound you're going for and you're able to get that same exact sound by choosing the guitar your idol plays.
Fender also has signature models, and these are designed in collaboration with certain famous musicians. When you get these models, you get the design and features that your hero particularly looks for.
Tips for Using and Maintaining Fender Guitar
Once you have your Fender, here are some tips that will help it sound better and last longer:
Get it properly set up. This usually means going to a local pro to intonate the guitar and to adjust the pickup height for your needs properly. While you can do this yourself, a local pro will do it better since they have the knowledge and tools you don't have.
Change strings regularly. The stock strings may not be what you need, and new strings may match the sound you're actually looking for. Often you can change the entire sound of the guitar simply by switching strings.
Get the right amp. This means that the amp must match the capabilities of your guitar. A great amp doesn't really mean much for a substandard guitar, while your terrific guitar doesn't sound as good with a mediocre amp.
Clean your guitar regularly. Do this with the proper materials, and then make sure you keep the guitar in its case when you're not using it. You may want to invest in a hard case for maximum protection.
FAQs
What accessories do you need with the Fender guitar if you're a newbie?

Get the Fender Celluloid pick, as it's the industry standard. Then get a comfy strap that's at least 2 inches wide and comes with adequate padding.

You need a cable that's shorter than 18.6 feet, and it should have reinforced ends to minimize the signal loss and handling noise.

You'll also need a tuner, and a clip-on tuner works for newbies because it's portable and easy to use. Once you progress with your skills, go with a chromatic tuner so you can tune in any key you want.

Get the right amp as well!
What are "barre chords"?

These are the chords that use your index finger to fret all 6 strings, such as the F chord. These are more difficult to do compared to open chords like C and D chords, because you need stronger hands.
Why is it so painful to play?

That's to be expected at first, but the truth is that eventually you'll get used to playing and it won't hurt as much. You just need to practice regularly and endure the initial pain, though you can use lighter strings at first.
Final Verdict
It's really up to you to decide whether to get a Telecaster or a Stratocaster. The same goes for the wood options, pickups, and color schemes.
What matters is that you're getting a Fender, and that means you have a legendary guitar in your hands. With the best Fender guitar, you're more likely to learn—and to keep on rocking over the years!