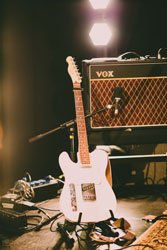 On the surface, the guitar bridge may not seem like much. It holds the strings in place and that's pretty much it, right? Wrong. There's so much more to this guitar part that many are looking for the best guitar bridge that will improve the sound of their guitars and complement their style.
If you're one of the folks who want to know more about this particular part of the guitar, this guide is a treat for you. Check out my tips and recommendations for this item below.
Top 6 Guitar Bridge: Comparison Chart
Best Picks of Guitar Bridge
#1: Hipshot KickAss High-Mass Bass Bridge
Last update on 2023-12-09 / Affiliate links (#ad) / Images from Amazon Product Advertising API
Kicking off the list is the Hipshot Kickass High-Mass Bass Bridge, a popular pick for modding bass guitars. High-mass bridges tend to be a bit controversial among guitar players because of the very fact that they're large and heavy, so some might find it interesting that one is on this list.
Why choose this high-mass bridge, you ask? The makers fashioned this item after the 'granddaddy of high-mass bridges' to ensure that it will have the same benefits to those who are in search of the same thing the said OG bass bridges offered.
However, don't think that they're copies because they're definitely not. They're developed specifically to have the same effect to serve as a 'tribute' instead of being a knock off.
Weighing 8 ounces and sporting a unique saddle design with pre-notched inserts, it offers both form and function to bassists. You don't need to file the notches and the inserts will let you adjust the string spacing very easily from 17.5 mm to 20 mm.
Most users say that this bridge creates a brighter sound and richer notes in their guitars. Some also noted that it improved their guitar's sustain. So all in all, it can certainly be a nice addition to those who want to improve the sound of their guitars.
On top of all of these, there's no need to worry about the complications of installing this bridge. While it is more complex than the bent-metal bridges that come as stock parts in bass guitars, it's not too hard to put in. expect to do some modifications, however, as many buyers had to do some tweaking upon installation.
What I Like
Richer notes
Brighter and heavier sound
Effectively balances headstock
Easy to install
Provides more control
Solid build
Looks nice
Best guitar bridge for sustain
What I Didn't Like
Not for the inexperienced modder
Needs some modifying upon installation
#2: KAISH Gold Guitar Roller Saddle Bridge
Features
Precision engineered, with high quality Plating. The roller saddles are perfect for using with a Bigsby, or just to reduce string breakages and add sustain on any LP style guitar. This model has 6.3mm post holes to drop over 6mm posts, typically found on most Epiphone guitars and many other similar import guitar brands.
Includes anchors and large M8 threaded bridge posts with 6mm diameter top section
High stability saddle retention rings to eliminate saddle rattle
2.05"(52mm) string spacing E to e; 73.5mm center to center post spacing.Bridge is 14" radius.
Tune-O-Matic style bridge with roller saddles for increased tuning stability, higher sustain and less string breakages. 6 saddles with independent intonation adjustment
Last update on 2023-12-09 / Affiliate links (#ad) / Images from Amazon Product Advertising API
The Kaish Gold Guitar Roller Saddle Bridge is one of the top picks for a replacement Tune-O-Matic bridge for Epiphone Les Pauls, SGs, Dots, and Bigsby guitars. They can also work well with the copies of these popular brands.
With the steep price tag of brand name guitars, it's not surprising that lots of folks try their luck with knockoffs. There's really no shame in that, especially since these items can be modded to sound better and the user's skill still determines the end result. With a bridge like this item, you can boost the performance of your affordable guitar.
Sure, the build of knockoffs and the real products may be vastly different but by replacing some of its parts with more decent alternatives, you can improve the performance, sound, and feel of copies. A simple bridge replacement can do all of these, so why not give it a shot, right?
And with this item's friendly price tag, you don't have to risk a lot in the process. Even the installation isn't too hard to do, so you can determine if you made the right choice in no time.
Another compelling reason to give this item a shot is its fancy gold finish. It can add some pizzazz and glamor to most guitars.
If there's one thing that you should take note of, however, is that it will need a lot of lubrication initially. Some screws can get quite tight upon installation but it will loosen up with some oiling, so don't forget to do that instead of giving up on the item entirely.
What I Like
Increased tuning stability
Designed for less string breakage
Higher sustain
Fancy gold plating
Easy intonation adjustment
Friendly price tag
What I Didn't Like
Screws will feel tight at first but some oiling will fix it
#3: Fender Telecaster Chrome Bridge
Last update on 2023-12-09 / Affiliate links (#ad) / Images from Amazon Product Advertising API
Many will agree that Vintage Telecasters are pretty much perfect as they are. However, you can still take things up a notch or two with these guitars with the right upgrades. One popular pick is the Fender Telecaster Chrome Bridge, the 3-Saddle American Vintage Telecaster Bridge Assembly.
While the stock 6-saddle bridges are great, the 3-saddle option tends to charm a lot of folks for a couple of reasons. First of all, they look nice. The vintage vibe is hard to deny, so if you've always loved the look of the rock stars of the 70s and 80s, this might help you achieve the same vibe.
Then, there's also the fact that it's quite affordable. For an authentic Fender part, it's pleasantly surprising that this item won't hurt your wallet. It's well-made, so it's a good deal for its price.
In terms of performance, it can give you the Tele signature twang, all thanks to the brass saddles. While stock bridges can also give the same sound, this one enhances it, making it a more satisfying add-on for many.
Installing this part is also not that hard to do. It only has four mounting screws. This design simplifies the process of mounting bridges significantly.
All in all, it ticks all the boxes in what the electric guitar hardtail bridge should offer: look, sound, and feel good. So if you're after something that will do the job well, this can be a solid choice for you.
What I Like
Iconic vintage look
Fits vintage Teles like a dream
Enhances intonation
Friendly price tag
Easy to install
Drop in replacement for MIM Teles
Top guitar bridge pick by many guitarists
What I Didn't Like
Some aren't too happy with the quality of the screws
#4: Gibson Nashville Tune-o-matic Bridge
Features
Nashville Tune-o-matic bridge offers un-notched saddles with individual saddle screw retainer clips, and a wider footing for increased intonation range
The stud and thumbwheel are also cast directly onto the bridge, allowing the Nashville Tune-o-matic to slide directly into place
Authentic Gibson Replacement Part
Last update on 2023-12-10 / Affiliate links (#ad) / Images from Amazon Product Advertising API
The Gibson Nashville Tune-o-matic Bridge is pretty much the OG of tune-o-matic bridges, so of course, I'm including it on this list. Despite being designed and created in the early 1950s, it continues to be one of the most iconic bridges in the market today.
A fascinating fact about this item is the fact that this very model is one of the most ripped off guitar hardware ever. This is the biggest testament to how great of an addition it can be to many guitars and why it's considered as the best tune-o-matic bridge there is by lots of guitarists.
What makes this item iconic, you might be wondering? For starters, if you own a Les Paul, you might want to give this a shot. Swapping out stock bridges of the Les Paul to this tune-o-matic bridge can give your guitar a significant upgrade without costing you too much or requiring you to exert a lot of effort. It's also a recommended mod by experts, so you might want to give it a try.
Installing this bridge on a Les Paul isn't too fussy as well. So if the only thing holding you back from upgrading your guitar is the hassle of doing so, this might get you going. It doesn't require a lot of modification to work.
Speaking of modification, however, you'll still need to do some on this item since it's saddles are un-notched. This means that you have to use nut files that will correspond to your string gauge for it to properly hold your strings in place.
This may sound like a hassle but many find the effort to be worthy as it will allow you to control the spacing of your strings. This can significantly affect the feel and handling of a guitar, so lots of guitarists are interested in giving it a try. This addition will give you such freedom.
What I Like
Easy to install
A classic upgrade that experts recommend
Drops straight in on Les Paul guitars
Allows control over string spacing
An iconic add-on to a Les Paul
Available in 3 different finishes
High quality
What I Didn't Like
Some buyers aren't fans of the shade of the gold finish option
#5: Seismic Audio Electric Guitar Bridge
Last update on 2023-12-09 / Affiliate links (#ad) / Images from Amazon Product Advertising API
One of the trickiest things about replacing your guitar bridge is the fact that they come in different sizes. This is why most manufacturers note the compatible guitars in their listings.
Unfortunately, that doesn't really help a lot of those who didn't buy brand-name guitars or their copies. This makes it more challenging for them to shop for a replacement bridge.
If this is your issue, the Seismic Audio Electric Guitar Bridge might do the trick for you. This affordable replacement part is designed to fit all kinds of guitars with the help of its standard measurements.
While guitars don't really come in standard measurements, this item still cuts close to what will fit most models. It can certainly work on a lot of the most popular brands in the market including Fender, Gibson, Ibanez, Ernie Ball, Epiphone, ESP, Jackson, Paul Reed Smith, Yamaha, BC Rich, Schecter, and many others.
Made of diecast metal, you can also count on this item's quality. It's not as refined as the brand name picks above, however, as its finish is only a matte paint job. It can chip or fade in time, so you should be ready for that. It still looks nice with its black coloring, though, offering a simple but impactful detail to many guitars.
Affordability is another good reason to give this product a chance. It's one of the cheapest on this list. So if you're not sure about swapping out your stock bridge for something else, this won't cost you an arm and a leg at the very least.
What I Like
Very affordable
Will fit most guitars with its standard size
Promises better intonation and sustain
Tuning stability
Attractive black coloring
Must-have guitar bridge
What I Didn't Like
Painted finish might chip or fade over time
#6: 78MM Metal Fixed Hardtail Saddle Bridge
Features
This Saddle fits for Fender Strat Tele electric guitar, in Chrome Finished
This guitar bridge is made of zinc alloy, String spread: approx. 53.7 MM / 2.11", Baseplate: approx. 78 * 44.5 MM / 3.07 *1.75in
Top-Loading saddle design is easy to install and easy access, adjust for intonation and height level
String Spacing is the standard 10.5 MM / 0.41in from E-e
Package including: 1pcs Guitar Bridge Set, 5pcs screws and wrench (Any other problem about product or replacement, please help to contact the seller, The way to Contact Seller: Find your order -- Contact Seller, then message to us, thanks.)
Last update on 2023-12-10 / Affiliate links (#ad) / Images from Amazon Product Advertising API
Last but not least is the 78mm Metal Fixed Hardtail Saddle Bridge by Oneflysky. This aftermarket fixed bridge is made for Fender Telecasters and Stratocasters, so if you're thinking of updating your set up, this might do the trick.
The name of this item is pretty straightforward. It refers to the measurement of the bridge so you can easily tell if it will fit your guitar. Again, it's meant to work on Teles and Strats but if your guitar comes with the same measurement, there's a high likelihood that it can work for you, too.
The features of this item are also pretty standard. The string spacing is at the regular 10.5 mm from E-e so it's not particularly fancy or advanced. This can suit those who aren't looking for lots of bells and whistles
With this, it's not surprising that this item is very affordable. In fact, it's the lowest priced pick on my list, so it's perfect for those who are on a budget or are looking for a replacement part for an inexpensive guitar.
Despite the low price, however, this item is made of quality materials and construction. It can also hold a tune well. Coupled with the right skills, it can be a dependable addition to your guitar.
This item also qualifies for the best guitar bridge for beginners since it's a steal that performs well. With this pick, anyone can try upgrading their guitars without spending a fortune and still get good results.
What I Like
Very affordable
Fully adjustable
Easy to install
Quality build
Holds a tune
What I Didn't Like
Not the perfect fit for Strats
How to Choose the Best Guitar Bridge
Let's now move on to the actual selection process to help you get one step closer to modding your guitar. What are the things that you should consider when shopping for the best guitar bridge for you? Here are some of our tips:
Make sure that the product suits your guitar.
The best bridge for strat might not necessarily work for other models, so you should be very particular about this detail. You can't use a bridge that is not compatible with your guitar.
Consider your skill level.
Not all guitar bridges are made equally. Some are more complicated than others, so you might want to avoid those if you're a beginner to avoid getting overwhelmed by how it works.
For example, the best tremolo bridge for Strats may seem interesting but if you're a newbie who hasn't played around with guitar bridges before, it might not suit you yet. The complexity isn't just overwhelming but they can also be quite bothersome. Some people don't really need highly complex equipment and it might just prove true in your case.
Think about how much fussing you're willing to make for your guitar.
If you want a straightforward bridge, fixed options are great. If you think you can handle a more customizable option, then have a go at the other types of guitar bridges.
Never compromise quality.
The quality of your bridge will also play a part in the sound and performance of your guitar. Avoid poorly built ones as they can damage your guitar.
Don't hesitate to take into account your guitar's look.
The aesthetics of your guitar can also be a huge factor in choosing the best guitar bridge for you. Who doesn't want a musical instrument that is nice to look at, right?
Different Types of Guitar Bridge
There are a few different types of guitar bridges as some of them are better suited to certain genres of music than the others. If you want to know which one will suit you best, here are the different types you should take note of.
Acoustic Guitar Bridge Types
Fixed bridges are glued on the case of the guitar with the strings anchored right on it. They're found on both classical and folk guitars.
Floating bridges are commonly found on arched and semi-acoustic guitars. Having the string tension hold this bridge on top is its main characteristic. The strings are anchored to a fixed tailpiece and you can move the jumper to adjust the guitar's pitch.
Electric Guitar Bridge Types
Hard-Tail Fixed Bridges are typically composed of a metal plate with six individual saddles. It will let you adjust the length and height of the string and it's best known to hold a tune really well. It's also easier to maintain and get familiar with.
Tune-o-Matic Bridges can be considered as a type of fixed bridge that can be better manipulated for more intricate adjustments. It's believed that the design of this type of bridge can lead to better sustain and provide excellent tuning stability.
Tremolos are more complex as they are anchored to another mechanism that is affixed to the body of the guitar. This type of bridge will let you adjust the length of the strings on demand. There are 2 sub kinds of tremolos: the Synchronized Tremolo and the Floyd Rose.
Fixed Guitar Bridges Vs. Tremolo/Floating Bridges
With such exciting options available, which one should you choose? To help you make a choice, let's pit them against each other to find out which would be the better choice for you.
Fixed guitars are, as mentioned above, believed to hold a tune better than other kinds of bridges. It's because they're firmly affixed to the case. It's also more basic, so it suits newbies better.
Floating and tremolo bridges, on the other hand, are more complex and will let you do tricks that you can't do with a fixed bridge. It will let you bend the pitch of a tone, apply vibrato to entire chords, and even deliver dramatic special effects, giving you more ways to play around.
However, floating bridges can be quite complicated, especially during setup. You need to perfect the calibration of the balancing springs' tension to keep your guitar in tune. A string breaking in this setup will mean major trouble and will not let you play properly as it will throw off the tune of the other strings. Changing strings can also be a real pain to do.
Fixed bridges will not subject you to such troubles but they also won't give you the dramatic sound effects that tremolos and floating bridges can make. They're just simpler to have, so if you don't really need to make those dramatic sounds to make the music you want to make, then you don't have to complicate things. But if you can have both, they'll definitely let you have more fun.
Who Makes the Best Guitar Bridge?
When it comes to guitar bridges, brand names tend to have a huge impact on the sound and performance of the guitar. However, pinpointing the best guitar bridge maker can be a tough feat.
As these items are known to suit certain genres than others better, it's almost impossible to say which one is the ultimate pick. You'd need to be more specific in this regard as what can be the best for one player might not be a good match for others, depending on how they play and what kind of music they make.
Top Guitar Bridge Brands
Learning about the different guitar bridge manufacturers and the specific kinds of items they make can help you find your perfect match. So which ones should you take note of? Here are a few that you should check out:
Fender with their hardtail fixed and tremolo bridges
Gibson with its Tune-o-matic design
Floyd Rose tremolo systems
Ibanez Edge systems
Kahler cam system tremolos
Wilkinson tremolos
Bigsby vibratos
Why Use A Guitar Bridge?
A guitar bridge is an essential part of the guitar, so you definitely have to use one even if you're not completely familiar with what it is or how it works. This part also has a huge impact on a guitar's tone and overall feel, so it's not something you can opt out of.
How to Use a Guitar Bridge
The use of a guitar bridge is pretty simple. You just need to set it up in a way that it will hold the guitar strings in place.
Once you do this, your bridge has pretty much done its job. However, a guitar bridge can also be more than just a fastener. You can also use it to your advantage to create the richer and more vibrant sound that they promise.
As the guitar bridge can also have an effect on the intonation and the overall sound of your guitar, you can also use a bridge in crafting a more unique and specific sound for yourself. With this, musicians can better express themselves through their music.
FAQs
What is the guitar bridge?

As defined by Wikipedia, the bridge is a common element in string instruments that supports the strings on top of the instrument and holds them taut to create the vibration which can help create the sounds necessary to make music.
Why is the guitar bridge at an angle?

The angle can help improve the intonation of the guitar.
What is a floating bridge guitar?

Floating bridge guitars use a different technique in securing the bridge in place. Instead of gluing them to the top, they are held in place by the string tension and a separate tail piece to anchor the strings.
What is the point of a floating bridge guitar?

Floating bridge guitars will let you adjust the pitch of the strings depending on the position of the bridge.
Can a guitar bridge be replaced?

Yes but it has to be done properly to avoid any complications in the future.
Final Verdict
After discussing all of the essentials on bridges for guitars, we're sure you'll make some progress in your shopping process. While I may not be capable of pointing directly which one is best for you, we're confident that this guide, at least, covered a lot of your options.
But if you really want to know which product I'm willing to put my money on, We ask that you take a look at the Gibson Nashville Tune-o-Matic. The fact that it has been able to dominate the market for more than half a century can convince anyone that it's worth a shot. With this item, you might be able to make the most out of your purchase.