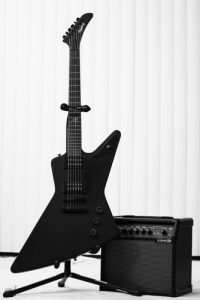 From the beginning learner who will be picking up a guitar for the first time, to the world famous rock stars, everyone who plays the electric guitar relies on their power amp to hear their music.
Here I will look at several of the best guitar power amp options in the market today, and compare them so you can learn about which features make the best sound for your next jam session.
These power amp models are a mixture of both popular and innovative equipment from the top audio equipment manufacturers in the world, and I hope you can find the one you need here.

Top 5 Guitar Power Amp: Comparison Chart
Best Picks of Guitar Power Amp
#1: JHS Little Black Amp Box Signal Converter
Features
Tames a Screaming loud tube amp by running through the effects loop and Controlling the amount of signal sent to the Power section
Lets you Really push the front end of Your amp for the natural feel and tone that you can't get any other way
Retain the response and tone of Your amp's Sweet spot at lower levels
High grade components keep Your tone clear and pure
Passive Design Doesn't require any Power
Designed to be Compact, sturdy, and Simple to integrate into Your rig
Can easily be mounted underneath Your pedalboard
Last update on 2023-10-02 / Affiliate links (#ad) / Images from Amazon Product Advertising API
The longer you play the guitar, the likelier it is for you to have more effects pedals to add to your personal setup. And, as that happens, you try to find ways to get that sound you want out of your effects. This is how many of us learn about the send and return jacks of our guitar amplifiers.
This is the case where this JHS' innovative product works best. This tiny signal converter helps you control your volume without needing to acquire a large and likely expensive volume pedal for your effects loop.
This small size makes it easier to place and install on your pedal board and reduces the amount of weight you have to lug around on gigs. I found that by using this signal converter on your effects loop, you can make even the notoriously loud and difficult to control tube amplifiers create the right sound at low volume.
This makes it easier to use your large guitar amplifier for simple practice without blowing out your neighbors ears. The knob type of control is a lot different from the pedal based volume control that most guitarists are familiar with, but I found it more convenient to use when practicing because I could set the volume by eye, which is difficult to do with a pedal.
The small converter is black and really blends in well with almost any kind of pedal board, without being distracting.
The only problem I've found with the design is that it is not easy to tell immediately which jack is input or output without consulting the documentation.
What I Like
Small size makes it easy to place on most pedalboards
Easy to use control knob makes adjustments effortless
Minimalist design is great to look at
What I Didn't Like
No directional markers on both jacks
Easy to lose if not installed on a pedal board
#2: Crown XLS1002 Two-channel
Features
Class D amp with Crown ultra-efficient drive Core technology weighs less than 11 lb. (5 kg)
Higher DSP capabilities: more control; has band pass filter per channel
Increased lighting functionality; turn off all LED indicators except clip and thermal to reduce distraction in dark venues
Selectable input sensitivity; 1.4VRMS and .775VRMS options so that amp can be driven At full power
Set sleep mode after specified time without having to press a button
Input: balanced XLR (x2), ¼" TRS (x2), RCA jacks (x1 pair); output: ¼" speaker (x2)
Power: 550W at 2ω, 350W at 4Ω, 215W at 8Ω
Ac input voltage: 100 – 240VAC (10%), 50/60Hz
Last update on 2023-10-02 / Affiliate links (#ad) / Images from Amazon Product Advertising API
This power amplifier is a great new addition to Crown's line-up of  power amplifiers, a catalog of products known in the audio industry as a reliable workhorse for production and performance.  I was extremely impressed by the wide range of compatibility for speakers as well as the low distortion levels that were evident when we used our best equipment.
You might be intimidated by this machine when you first see it because the layout and controls are similar to the highly advanced production equipment used by audio professionals. However, you will actually find that the reason for these controls to be prevalent is that they are great to work with and easy to control once you get a hang of it.
I really liked the rack mount look on power modeling amplifiers and the execution for the Crown's XLS1002 is quite a good example. I used a 4 ohm speaker to test this power amplifier and the sound I did not find any noise problems whatsoever across the volume range.
The 350 watt power delivery is excellent for its size and range and this amplifier can fit in most production and performance environments when deployed by itself or with other equipment. Cross compatibility follows industry standards and I did not have problems connecting it to other audio equipment whatsoever.
For guitarists, this amplifier accurately creates many sound profiles with the proper settings, I did not encounter any issues, even when playing with sensitive tones in my effects loop.
One potential issue that I did not find in my testing is the presence of an active cooling fan, which other users are concerned about due to the possibility of it being noiser in the future. I did not hear the fan in question.
What I Like
Industry standard capability
Two channels is great to work with
Rack mounting is easy
Great and sturdy build quality
What I Didn't Like
Has an active cooling fan, which might be an issue for those who prefer not to have moving parts.
Larger than other more compact options.
Will require a proper and rated travel case if to be used in a mobile environment.
#3: Behringer Microamp HA400 Ultra-Compact
Last update on 2023-10-02 / Affiliate links (#ad) / Images from Amazon Product Advertising API
In another category of powered amplifiers, I checked out the Behringer Microamp HA400. This device is a headphone amplifier, meaning it is designed to specifically support headphone use.
It's great for those working on their recordings or with limitations on monitor volume due to the environment they play. A great example for this are guitarists who record songs at home to upload on video sharing platforms on the internet. It might not be possible to use regular studio monitors properly at homes so headphones are a must.
The bigger problem the HA400 solves is enabling a group to listen to a source with headphones. I found that the four channels available on this amplifier are equally clear with very low noise and independent volume levels.
The sound quality on each channel remains great even if one, or all of the other channels use maximum volume. You might be interested in using it with your band for monitoring as it enables all of you to listen to the guitar track while independently controlling the volume so that it would not be distracting.
The compact size is a great additional feature for many audio enthusiasts as it does not take a lot of room to store when it is not being used, and also easy to mount and secure in most recording and production environments. The operational amplifiers for each channel are the same as the operational amplifiers in larger full-size audio equipment.
You would be able to use this device with other Behringer equipment as well as devices from other manufacturers without issue, as long as they get matching amplification. High quality knobs and a great outer finish round off the great features I enjoyed on this product.
What I Like
Great quality from a reliable manufacturer
Independent channels
Powerful operational amplifiers
What I Didn't Like
Might be inadequate if you need more than four channels
Not the loudest headphone amplifier available
#4: Orange Amps Electric Guitar Power Amplifier
Last update on 2023-10-02 / Affiliate links (#ad) / Images from Amazon Product Advertising API
With its distinctive look and powerful sound, the Orange Crush20RT is probably one of, if not the best orange combo amps on the market today. Orange small amp products are some of the most sought after audio equipment around the world today and my testing shows why.
This small amplifier is able to produce a wide variety of sound that is quite frankly the standard at which other basic guitar amplifiers should be compared too. The most basic yet important feature you would enjoy on this amp is the clean channel on the amp. It sounds clear and with great tone and depth.
Others who heard me testing this tiny beast of an amp commented on how good the sound really is. The dirty channel has that classic Orange sound that would be difficult to recreate with amps from any other manufacturer.
The controls are classic standards with sturdy knobs for reverb, gain, clear, dirty, treble, middle, and bass levels. There is also an onboard tuner, which is a great addition for anyone who is just starting to learn guitar. Finally, the presence of a good high quality headphone jack makes an even better option if you want to practice with your guitar with only yourself for an audience.
The classic design of this amp could also be its weakness, as other top guitar power amp manufacturers cram new technologies into their beginner amp. However if you are going to look from a pure audio standpoint, this amplifier Orange made is a great option.
What I Like
World class quality from a very popular manufacturer
Great tone and volume for a small guitar amplifier
The best pedals for orange amps are also inexpensive
Classic control layout is easy to understand
Built-in tuner is great for beginners
What I Didn't Like
Limited power modelling amp capability
Others have better tube power amp bass levels
#5: SONICAKE US Classic Plug-In USB Chargeable
Features
Ideal Carry-On/Bedroom Guitar Effects with Headphone Amplifier for Silent Practicing
Classic Tweed Amp Clean and Overdrive Tone Tastes On Guitar Headphone Amp
Built-in Reverb Effects adding additional Sonic Dimensions to the Overall Tone For Guitar Headphone Amp
Headphone Splitter & 1/8'' Aux Cable included, providing more possibilities for various contexts of use
USB-Chargeable (USB Charging Cable included) for 5 Hours Continuous Operation For this Guitar Mini Headphone Amp
Last update on 2023-10-02 / Affiliate links (#ad) / Images from Amazon Product Advertising API
When people think about searching for guitar amps they often find the reviews for the best amp head for metal, jazz, or other genres. But in reality, one of the worst problems for these musicians is that the best metal amplifiers are also huge pieces of equipment.
This is where Sonicake's US Classic Plug-in comes in, a versatile and light guitar headphone amp that is easy to use and move around. I checked out this small amplifier using a strat and I can easily say that the sound quality is very impressive, especially for its size and power class.
The specific model I tested is rechargeable with a usb cable, which means you will not need to constantly purchase AAA batteries to power this device. The form factor makes it easy to transport with the guitar, and with just this and a headphone, you'll be able to practice for quite some time, at almost any type of location.
The clean tones feel like the classic sounds of older guitar amplifiers while the noise level is kept at a minimum. Battery life is good and you will be able to practice for quite some time in between charges.
A great addition I found on this are the included guitar effects sound quite decent and surprisingly useful when you don't want to lug around your large pedal board. The addition of an one-eighth inch aux input jack makes it possible for you to play along with a backing track without needing additional equipment, you can even make use of your phone.
What I Like
Good clean tones and volume
Additional guitar effects
Light, portable, and easy to use
Can be used with other devices to use backing tracks
Rechargeable via USB with good battery life
What I Didn't Like
Will require boosting if used with anything other than headphones
Noise levels may not be as low as other larger amplifiers
What is Power Amp?
In its most basic form, a power amp is nothing more but a way to get sound from a source, your electric guitar for example, to play from a speaker. The speaker itself may be small like a headphone, or very large like those in best metal amplifiers in rock shows and concerts.
Things to Consider Before Buying the Best Guitar Power Amp
Where you are going to use it
This might dictate the size and power of the power amplifier you will use. For example, an orange small amp would be more appropriate to use in a home while larger Orange combo amps are used in rehearsal studios or actual stage performances. You would feel really sad if you could not turn up your awesome amp because you're in an apartment.
What you are going to play
Different genres of music will benefit from different features available on power amplifiers today. For example, if you are a beginner, it would be great to use a power modelling amp that has built in sound profiles that are switched on board. This allows you to get the sound you want without having to buy all of the equipment that would normally be required to produce it.
What equipment you will be using with it
For example, if you plan on using your amp with specific effects like reverb, delay, or even modulation, finding an amp with dedicated effects loop jacks would work wonders for you. The speakers you intend to use with the amp ranging from headphones to 350 Watt 4 ohm speakers will require a particular power rating for your amp purchase.
Top Power Amp Brands
Orange
Considered by many as the quintessential classic guitar amplifier, Orange has a reputation for high quality and outstanding tone and sound fidelity. Some artists have said they wouldn't be caught dead recording on any other amplifier.
Behringer
Behringer has a reputation for high quality engineering and professional level equipment manufacturing. Many of the world audio engineering studios use Behringer amplifiers.
Crown
Crown audio makes some of the world's most popular amplifiers for professional applications including cinemas, soundstages, concert halls, and touring concerts.
Sonicake
Sonicake produces innovative new products that leverages new technologies to deliver excellent sound quality at an affordable price.
JHS
JHS Pedals are known as a maker of unique guitar effects and equipment with original circuit designs and reimagined classics.
FAQs
Do I need to buy an expensive power amplifier?

No, not unless you need a specific feature that only it can deliver. A basic model amplifier from a reputable manufacturer can often be enough for most practical purposes.
Are smaller amplifiers worse than larger ones?

Not all the time. True, they will tend to have weaker volume, but when it comes to sound quality, volume is not everything. The quality of the components as well as better design and tuning will have a greater effect on tone and noise than simple size.
Final Verdict
The Orange Amps Electric Guitar Power Amplifier is the best in this comparison because it can actually do most of the work you will need it to do as a guitar player. Compared to rackmount solutions, this small and portable amplifier has its own speaker.The Best Guitar Power Amp: Orange Amps Electric Guitar Power Amplifier.
It also has a headphone jack if you want to practice without disturbing your neighbors. With its small size, it is reasonably portable, you will have no problem carrying it around.
And finally, the sound quality is truly amazing, the classic Orange amp sound is unmatched in the industry. Having this power amplifier will allow you to make music without worrying about your equipment.