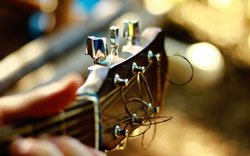 It happens to everyone. You are probably putting on a fresh set of strings, or in the middle of a playing session when suddenly one of the strings is out of tune, and no matter how much you try to put it back won't stay in tune. It is probably time to replace your tuners.
Here we will look at several of the best guitar tuners available on the market today. They are made by well known audio equipment manufacturers and are made to give the best fit on your electric guitar. These top guitar tuning machines are high quality parts.
Top 6 Guitar Tuning Machines: Comparison Chart
Best Picks of Guitar Tuning Machines
#1: Fender Locking Tuners Chrome
Sale
Features
One set of 6 Fender locking tuners, including 3 long post tuners for the wound strings and 3 shorter post tuners for the plain guitar strings, to use as staggered guitar tuners
Precise Tuning - Gear ratio 18:1 makes for a finer degree of control than lower ratios, giving you a precise string tension so you can play each desired note as you tune up and get ready for your practice or performance
Dual-Pin Mounting - These right hand locking tuners feature dual-guide pin mounting and include all mounting hardware, like bushings and washers, for a secure fit that is easy to assemble so you can start playing your Fender guitar right away
Polished Chrome Guitar Tuners - The shiny chrome polish finish on each Fender locking tuners stratocaster make for a sleek design and professional style that any musician can be proud of, whether playing country, blues, or rock
1 Year Limited Warranty: Fender parts and accessories are designed for players and built with unmatched quality—which is why Fender warrants this part to be free from defects for one (1) year from the date of original purchase
Last update on 2023-12-09 / Affiliate links (#ad) / Images from Amazon Product Advertising API
Fender guitars are extremely popular and their designs have been copied by many smaller brands. This means that Fender-style hardware is also very common to find on non-fender guitars. You will often be surprised to find that this type of tuner could be on your guitar.
The first thing you will need to check out before buying this is the size and location of the screw holes so that you know they will match. The second thing to check out is the hole for the tuning posts themselves that can vary with your guitar maker.
I found them easy to install and they stay in tune for a good time. This ease of install might not be the same if your guitar does not have the correct holes for these tuners.
Fender deluxe locking machine heads can be used with guitars that originally did not have locking tuners if the installation location matches. The complete kit of included mounting hardware like bushings, washers, and the like make installation quite easy.
The most significant feature of these tuners are the locking feature, this means that they lock into place after tuning them. If you are unfamiliar with this, this feature makes string installation easy.
Basically, this means that if you tune up, it will lock its position to prevent it from tuning down so that the guitar stays in tune.
This is a feature many other guitars simply do not have, so it makes sense for some to upgrade their simple tuners to this particular type.
What I Like
Uses a common compatible setup
Copied by many smaller manufacturers
Easy and trouble free installation
Holds tune for longer than regular tuners
Also includes bushings, washers, and mounting screws
What I Didn't Like
May not make sense for users of non-Fender style guitars
#2: Musiclily 6-in-line Sealed Electric Guitar String Tuning Pegs
Features
Economy Sealed Tuning Keys Set for Electrics guitar;fit 13/32 inch (10mm) standard machine head hole
Material: alloy metal ; Gear ratio 15:1; Color: Chrome
Keep your guitar in tune, good replacement for your cheap guitar
6-in-line set, Nut,Ferrule,Screws included
Package Includes: 6 pcs guitar machine heads
Last update on 2023-12-09 / Affiliate links (#ad) / Images from Amazon Product Advertising API
Musiclily is a popular store for music suppliers but did you know that they also sell parts and accessories? Here I tried out the inline sealed electric guitar tuning pegs.
This particular pack contains six tuners so depending on how your other tuners are looking, you might want to change them all out at the same time so they would be at the same wear level and not stand out compared to the other tuners on the guitar.
These in-line sealed tuners are great for popular guitar designs like the Fender Stratocaster or the Telecaster. Tuners on these guitars are often worn out over time and having these great value replacements ready and on hand is a great idea.
I found that the 13/32 inch holes on my guitar were perfectly matched to these tuning pegs and the sealed design makes it worry and maintenance-free.
The tuning keys I tried from Musiclily had a gear ratio of 15:1 in chrome colors, they came with all the additional required accessories like screws, nuts, and ferrules.
I did not have a problem installing them in my Stratocaster. You will find the alignment of the mounting screws perfect and that they will fit with the right amount of pressure without damaging the wood of your guitar. I did not have to modify my guitar to accommodate these tuners.
You would probably find that the quality of these tuners is comparable to the best machine heads in the market today.
What I Like
Set of 6 so it's easy to replace all the old tuners at the same time
Perfect fit for the most popular guitars
Machine heads make for almost no maintenance issue
Easy to use when replacing strings
What I Didn't Like
They do not look any different than stock equipment on common guitars
#3: Grover Accordion Accessory
Features
Insert the string through the post hole, wrap around once, then lock by tightening with the thumb screw.
Locking machine heads utilize the famous 18:1 Rotomatic design with a "thumb screw" mechanism.
Perfect replacement for the most standard machine heads. Chrome, 3 Per Side.
Includes all mounting hardware.
Insert the string through the post hole, wrap around once, then lock by tightening with the thumb screw.
Insert the string through the post hole, wrap around once, then lock by tightening with the thumb screw.
Locking machine heads utilize the famous 18:1 Rotomatic design with a "thumb screw" mechanism.
Perfect replacement for the most standard machine heads. Chrome, 3 Per Side.
Includes all mounting hardware.
Mounting screws and threaded hex peghead bushings with washers are included. 10mm-diameter (13/32") pegholes required
Last update on 2023-12-09 / Affiliate links (#ad) / Images from Amazon Product Advertising API
Most guitarists don't think much about their tuners as they tend to be boring pieces of utilitarian hardware. But when you see these Gordion products are some of the top electric guitar tuners on the market today.
I found that they look great on my guitar by adding the right amount of mechanical detail, without sacrificing the actual capability for the job at hand. I found that the locking mechanism is a great feature and it really makes the stringing process easier.
Once installed, looking from behind the guitar, the circular ridge design looks great. The branding is low key, but unmistakable which actually worked great to remind me that it had features most stock tuners do not have.
In my experience with it, stringing a guitar with these tuners on was no more complex than inserting the string, wrapping it around the post once, and using the thumbscrew to lock it down. You will have no problems with such a simple stringing process.
The 18:1 ratio on its tuning gears provides just the right amount of control, especially when using extra light gauge strings that are more sensitive to minute adjustments.
I also did not have any problems fitting the tuners on my Les Paul, so if your guitar has a similar size stock tuner, this set of Grover tuners would do well for you. Just make sure you check the actual dimensions on your guitar, as the myriad of models and factories these guitars come from has made compatibility a more complex issue than before.
What I Like
These tuners look great on most electric guitars
They are perfect replacements for old, broken, or faded tuners, without losing any of the unique visual quality of the originals
Excellent locking mechanism
Package includes all of the mounting hardware
What I Didn't Like
New guitarists will need to learn how to use the locking mechanism
#4: Wilkinson 6 Inline Chrome E-Z Post Guitar
Features
These tuners DO NOT fit all the Strats/Teles, they only fit guitars which have modern 25/64''(10mm) tuner holes with 45 degree fixing tag. Please note these are NOT locking tuners, these are just Wilkinson special E-Z Post tuners.These are factory direct parts with our own packaging for Wilkinson.There is plastic protective film covered on the Logo 'W', please peel off the film after you install the tuners.
19:1 Tuning Ratio; Instructions are not included, but you can refer to the installation picture in the listing, you can also consult your local luthier to install these tuners correctly, please be sure to verify the dimensions picture before you order the item
These tuners are Non-staggered height posts, the posts are all the same height, so the guitar will require you to retain the string tree; Fits for 10mm Tuner Holes headstock guitars
Contemporary flat sided mini button with sealed housing and 45 degree fixing tag
6 Inline for most right handed Strats,Teles or many other types of guitars; Screws, bushings and washers are included
Last update on 2023-12-09 / Affiliate links (#ad) / Images from Amazon Product Advertising API
If you have got a Telecaster or a Stratocaster, you know how easy it is to break your stock tuners, simply due to the relatively simple design they use. These Wilkinson tuning keys would make stock Stratocaster tuners look like crude parts indeed.
I found that the build quality is nothing short of excellent and the tuners themselves feel significant. Even though they are not locking tuners, the good build quality and high 19:1 tuning ratio make them great for tone sensitive work while holding tune for a good while.
I tested these tuners and found that they are easy to install, if you have correctly determined that you have the right guitar for it. You will need to ensure that your guitar has a 45-degree fixing position as well as the modern tuner holes, which are quite different from the original holes used on older Stratocasters and Telecasters.
If you do have the right guitar though, it is extremely easy to install. I didn't even have to check any manuals when I did it for the first time.
A thing of note is that since the tuners are the same height as each other, you will not be able to remove the string trees. If that is your intention, an alternate staggered height tuner would be a better fit.
Once installed, the flat-sided bottom and sealed housing match the design philosophy of the electric guitar well, and the discrete branding on the tuners make sure that those who know about tuners will know you are using a Wilkinson.
What I Like
Discrete branding is not a garish addition
Easy installation for those who intend to DIY
High tuning ratio for sensitive applications
What I Didn't Like
The tuners in this pack do not fit all guitars, you will need to note the hole size and fixing holes
They are not of the locking tuners type
#5: Mr.Power Classical Guitar Tuners Machine
Last update on 2023-12-09 / Affiliate links (#ad) / Images from Amazon Product Advertising API
People who don't play classical guitar don't often realize the care and complexity of the instrument itself, so many first time learners don't pay attention to their guitar's hardware. A great example of a great addition to a classical guitar are these tuners from Mr. Power. These machine heads look good while helping keep your guitar sounding great.
When I first looked at these tuners, I couldn't help but appreciate the great looking design details on the mounting plate. The gold accents and design on the black background are reminiscent of classic handmade flourishes on old musical instruments. The gold is simple yet elegant and the combination with the pearl effect on the ebony-colored keys is a great addition to any classical guitar.
The 1:15 gear ratio is appropriate for the type of strings classical guitars use, and the machine heads, or the gears you can see, on the tuners themselves are in gold colors. For installation, even though I am more accustomed to working on electric guitars, these tuners went in easy and hassle-free.
As I restrung the guitar, I could clearly notice a clear difference in ease of tuning compared to my stock hardware. The tiny wood screws that you will use to attach this is self-tapping, which can help if your existing screw holes do not align perfectly.
Before you buy this product, check your guitar for the recommended clearances and positions as some classical guitars use unconventional arrangements that might not be fully compatible with this tuner.
What I Like
The black and gold design looks sophisticated and aesthetically aligned with classical guitar designs
The gear ratio is good for classical guitar tuning
Can be installed quickly if the hardware matches the position of the old tuners
Easy to use after initial installation
What I Didn't Like
Design lacks flexibility for unconventional classical guitar designs
#6: Hipshot Grip-Lock 6 inline Enclosed 21mm
Features
These are genuine, factory-fresh Hipshot Enclosed Grip-Lock tuners, for 6 In-line headstocks, with mini buttons finished in Chrome and with full manufacturer warranty. These tuners have non-staggered posts, suitable for all 6-in line headstocks that tilt back. If your headstock tilts back, as on a Gibson Explorer, you need a 6 In-line non-staggered set.
Hipshot keeps a massive inventory of Hipshot Grip-Lock guitar tuners both the open and enclosed styles, including the custom buttons, Left hand and 7-string and 8-string sets.
Non- Staggered
Installation - fits almost all guitars. The posts are 3/8 and fit a hole drilled as 10mm or 25/64". Everything you need to install including bushings and screws are included. The enclosed version of the tuner is the same footprint as the Schaller M6L mini tuner.
Hipshot's Grip-Lock Enclosed Guitar Tuning Machines grip your strings for positive, accurate tuning. The new sleek design and ultra smooth 16:1 gear ratio give you a great combination of tuning stability, accuracy and good looks. The locking feature eliminates the need for multiple string wraps, and trem users no longer need a locking nut that deadens string sustain and all those annoying Allen screws and wrenches (added weight). Tired of winding strings? This is the answer. The Hipshot Grip-Lok
Last update on 2023-12-09 / Affiliate links (#ad) / Images from Amazon Product Advertising API
Even though they look almost the same, not all tuners are made equally. The Hipshot Grip-lock is a great example of this.
They do not stand out when used with a common electric guitar like a Stratocaster or Telecaster, but they make a whole lot of difference when you start using them.
How? First off, this set of tuners make changing strings a whole lot faster when compared to regular tuners. The locking system hipshot used is easy to understand and effortless to use.
I found it surprisingly accurate, considering the size and normal appearance it had. Using these turners, I was able to simply insert the string, pull up the slack, lock the tuner, cut the string, and tune it, in record time.
The grip is strong enough that multiple loops are no longer required, and I did not experience any form of string slippage, even during heavy use. During installation, I left almost no slack in the string and I was surprised that even when you string it as straight as possible, the grip remained strong during tuning.
You will find that these tuners are also extremely stable over time. As I played using the guitar I installed these tuners, I found that the stretching of the skin was one of the more prevalent causes of losing my tuning. The effect of it, however, diminished over time as these tuners maintained good tension over it. Staggered post options for these products generate additional flexibility giving the strings a good angle from the neck.
What I Like
Good compatibility among guitars with 10mm or 25/64" holes on the headstock
Special design on the locking action makes it great even under load
Easy to install on most guitars
High gear ratio for smoother and more accurate tuning adjustments
What I Didn't Like
Does not have a distinctive look, the look like stock tuners to the untrained eye
What Are the Best Guitar Tuning Peg Replacements?
If you are looking for the best guitar tuning peg, the first thing to look at is your guitar itself. There are a lot of things that would make tuning pegs great on one guitar but would render it incompatible to the next.
The best replacements would be the ones that will not look out of place on your guitar, and are able to keep tune during your common session length.
Different tuner designs will act differently on a Stratocaster, than on a Telecaster or a Les Paul. One way to check this is to compare your older tuner to the new one.
Difference Between Locking Tuners vs. Traditional Tuners?
Traditional tuners make use of the friction on multiple loops of guitar string on the post for preventing string slippage. Stringing such guitars will often require practice just to get it working.
To get it perfectly every time, a lot of practice is required. Locking tuners eliminate this problem by introducing a physical clamp that would stop the slipping by itself. This is so effective sometimes that some guitarists wholly forgo looping their strings on the post when they use a locking tuner. Some musicians make use of their tuners as a way to adjust tune, relying fully on the locks for preventing any kind of slippage.
Things to Consider Before Buying the Best Guitar Tuning Machines
Headstock hole width
All tuners require the use of a headstock hole and if the hole on your guitar is too small, you will either need to enlarge those holes, or not be able to use the tuners you just bought. You can check the measurements on the old tuners just to be sure.
Position of tuner mounting points
Even if the holes are the same size, different tuners use specific methods to mount on the guitar. Some of the items to check are the mounting screw positions, washers, nuts, and other equipment you may require. You can also use self tapping wood screws so you can forego using a pilot hole for mounting.
Height of the posts
You make use of the posts to hold on to the strings on tuners, some guitars will play and look better with linear or staggered tuning posts. Checking your stock setup and buying a replacement tuner with a similar post height solves most problems like this.
Aesthetic considerations
Tuners come in different colors and materials. Most of the time, you will want to use a similar material and color to match the theme of your guitar. Gold plated materials will work better with guitars that have gold trim. Chrome or stainless is also very common in electric guitar and can sometimes be a safe bet when choosing a color for your tuners.
Gear Ratio
The gear ratio will affect the sensitivity and accuracy of the tuners you will use. In general, higher gear ratio means smaller adjustment increments, but that will also mean you can easily make mistakes if you don't have a good way to detect if you are already in tune.
The Top Electric Guitar Tuners Brands
Guitar manufacturers like Fender and Gibson make their own guitar hardware and decades of experience make them a good source of replacements as well as upgrades for your instrument.
Musiclily is a popular store for guitar equipment and they make great replacement accessories for the guitar at great value. Many recommend them for simple but reliable parts and accessories.
Wilkinson is actually a range of guitar products that include pickups, bridges and machine heads that are popular with the modification crowd.
Power is another great source of good value for money guitar parts and upgrades. Their products are often great for quick and easy replacements for hard to find parts.
Hipshot is known for new and innovative product designs, with a philosophy of advancing new techniques and technologies for guitars. They attempt to create a new design paradigm for what has been a very traditional guitar and musical instrument industry.
FAQs
How will I understand guitar tuning machines reviews better?

You can learn by reading up on the names of the parts of a guitar and the terms used for describing the sounds a guitar makes.
Do I need to install a locking guitar tuner?

No. A regular tuner works fine. However, a locking tuner does improve the overall capability of your electric guitar to remain in tune for longer, as well as makes it easier to replace strings when they break. Slippage also becomes less of an issue if you have a locking tuner.
Are there any downsides to a locking guitar tuner?

There are no real downsides to using a locking guitar tuner. Most complaints are related to the additional wait on the head, as well as the additional expense. But, in comparison to the advantages and ease of use they provide, they remain a positive and good addition to any compatible guitar.
Final Verdict
After checking out the best guitar tuning machines I could find, I would select the Hipshot Grip-Lock 6 inline Enclosed 21mm as the best tuner you can get today. You will be greatly served by the innovative design the company has used in their tuner.
The unique yet understated aesthetics of the device does not take away anything to the guitar itself. It provides all of the benefits of a locking tuner without being an eyesore. The design philosophy of the company itself is also something I support as there is a great need for innovation in the guitar industry.