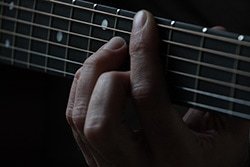 It's true that the vocalist and the lead guitarist get all the attention, but serious musicians know the importance of the rhythm guitarist. In fact, the best rhythm guitars can really help forge make a band's sound.
For a newbie, a rhythm guitar makes a lot of sense compared to a lead guitar. This type of guitar is great for learning your chords, while you also learn to create a perfect beat.
You can use the best rhythm electric guitar to play chords and sing along to your favorite tunes. Or you can join a band, working with the drummer and the bassist to lay the beat for the vocalist and the guitar soloist.
Top 6 Rhythm Guitars: Comparison Chart
Best Picks of Rhythm Guitars
#1. Ibanez 6 String Solid-Body Electric Guitar, Right, Transparent Red Burst (GRX70QATRB)
Lots of metal guys who play rhythm guitar go for Ibanez guitar these days. But you don't have to be an accomplished guitarist to play their guitars, as the brand also offers terrific starter guitars.
This rhythm guitar for beginners works very well if you want to play rhythm guitar. It's available in several color schemes, and we really like the transparent red burst design that makes it look serious and aggressive.
It's always nice to have a good-looking guitar to get you into the right mood for playing. This color can make you want to rock, and you'll certainly appreciate the admiring glances directed your way.
You're able to get your chords steady here, with the smooth fretboard with no sharp angles. It's pretty comfortable to play, and you're able to change chords without losing the beat.
Even if you're constantly strumming, you also won't have to worry too much about the strings going out of tune too quickly. The tuners are precise, and it offers stable tuning.
With the pickups here, you're able to get a nice sound that won't embarrass you. It also comes with a 5-way switch that lets you get several tonal palettes so you can create sounds that suits whatever musical genre you're playing.
Your package also comes with a cable, and you also get Allen wrenches for various adjustments. All in all, this solid rhythm guitar offers a terrific value for your money—it works as a guitar for newbies, but you'll still like this even as you get better.
Highlighted Features
Middle single-coil pickup, and bridge and neck humbuckers
5-way tonal toggle switch
Maple neck
Treated New Zealand Pine for the fretboard
Contoured poplar body
5-way tonal switching
Tremolo bridge
What I Like
It plays very fast and smooth
Comfortable to hold
Looks great
Lots of different tones for various musical genres
Easy to play
Stable tuning
What I Didn't Like
The body is somewhat lighter than the headstock and fretboard
You may want to replace the strings
#2.  Schecter Omen Extreme-6 Electric Guitar (Black Cherry)
Last update on 2023-12-09 / Affiliate links (#ad) / Images from Amazon Product Advertising API
Schecter is one of those brands that have earned a lot of respect from many knowledgeable guitar players. The brand started out by producing expensive custom guitars, and even today they still offer models that contend for the best guitar on the market.
The good news is that they've expanded their lineup, so that they now offer more affordable models (relatively speaking). But there's still that focus on creating high quality guitars, and the Omen Extreme-6 is no exception.
This looks great, even at a glance especially with the black cherry color option we went with. It's quietly serious without the "Look at me!" vibes, and you just feel like you want to play it to see if it sounds as good as it looks.
You do have a range of controls here, including the master volume and tone, along with the push/pull coil-splitting. You also have a 3-way switch so you can pick the tonal palette you want to match the music style you're playing.
Maintaining and switching chords here isn't a problem either.
This comes with a fast maple neck along with a 24-fret rosewood fretboard, and you can maintain the right beat easily when changing chords. The comfy double-cutaway body lets you get at the neck easily enough.
You'll be tempted to play with this for extended periods of time, so it's a good thing that it's so comfortable to hold and play. It holds its tuning nicely, and that sustain is amazing thanks to the string-thru bridge design.
Highlighted Features
Mahogany body with quilted maple top
Rosewood fretboard with maple neck
5-inch scale with 24 X-Jumbo frets
Thin "C" neck shape
Dual pickups with 3-way tonal switch
What I Like
Looks fantastic
Comfy to play and hold
Plays smoothly
Maintains tuning
Great sustain
What I Didn't Like
Case sold separately
Some people find the pickups are set too closely together
#3. Oscar Schmidt OE20QTE-A-U 6-String Solid-Body Electric Guitar
Last update on 2023-12-09 / Affiliate links (#ad) / Images from Amazon Product Advertising API
If you're looking for a more affordable Les Paul, it doesn't mean you have to go right away to the Epiphone brand. There are lots more alternatives these days, and this one is more affordable than most.
It's true that brand recognition isn't exactly high for Oscar Schmidt, but they've been around isn't the 1870s so they must be doing something right. The first thing you probably notice here among the "done right" features is the price, but that's not the only thing you notice.
We start with the look, which immediately gives you the classic LP styling you're looking for. The features include the single-cutaway solid body, along with the raised pickguard and the 24.75-inch scale length.
This is available in several color schemes, but we went with the QTE (quilted tiger eye) for its distinctive look.
There's an option for an engineered wood fretboard, but you ought to just go with the standard rosewood fretboard instead. The maple neck is also set into the body, instead of bolted on as you'd find in other affordable LP copies.
The headstock of this model also conforms to the LP standard, with good-looking binding and an abalone inlay. Headstocks in other cheaper Les Pauls simply aren't as nice.
This plays very well, so you should be able to practice your rhythmic guitar playing with no trouble. You have dual humbuckers with volume and tone controls for each, along with a 3-way pickup switch.
The overall sound is great, with tones that are both articulate and crisp. It may sound a bit basic, but you'll find it hard to get a better sound at this price range.
Try this for classic rock or country, and you'll find that you're able to play rhythm guitar nicely.
Highlighted Features
5 eye-catching color scheme options
Accurate Les Paul design
2 humbuckers with 2 volume and 2 tone controls (and 3-way tone toggle switch)
Fixed Tune-O-Matic design with a stopbar tailpiece
What I Like
Looks fantastic
Conforms to standard Les Paul features
Very playable
Can be used for country music to rock
Clear tones
What I Didn't Like
The general tone may be a bit too basic
Ho-hum hardware
#4. Ibanez RG Series RG450DXB
Last update on 2023-12-09 / Affiliate links (#ad) / Images from Amazon Product Advertising API
The Ibanez brand does have excellent top-tier guitars, but their high-quality guitars for beginners have been their most notable offerings. This one is particularly nice, with a quality just below the lower mid-range (and above even the best other entry-level guitars out there).
The body is made of premium mahogany, with a Super Strat body design and even a Strat-style pick guard. You have several colors to choose from, though your options are mainly just solid colors.
The neck profile is very comfy to hold and play. This comes with a rosewood fretboard, decorated by the Ibanez Shark Tooth Inlays which are quite unique.
This comes with a standard DL tremolo bridge, which is comparatively better than the more basic tremolo bridges out there. The tuning features are also Ibanez standards, so it's not as if you're getting the cheap stuff.
The sound is terrific for a beginner guitar, with a rather refined singe-coil sound that you don't really get from other pickups. The bridge humbucker tone is also nicely robust.
It's really that center alnico pickup which defines this sound all in all. it spruces up the tone color, and extends the versatility of the guitar.
Highlighted Features
3 Quantum pickups, HSS configuration
Wizard III maple neck, with rosewood fretboard
Super Strat body style
Tremolo bridge
Stud lock function to maintain stable tuning
What I Like
Great sound that intermediate players appreciate (not just for newbies)
Decent hardware
Reliable and consistent
Keeps in tune
What I Didn't Like
Ho-hum color scheme
The case is sold separately
#5. Ibanez GRX20ZBKN Electric Guitar
Last update on 2023-12-09 / Affiliate links (#ad) / Images from Amazon Product Advertising API
Among entry-level guitars, the goal is often to provide an affordable model without sacrificing too much in terms of quality. Not everyone succeeds in achieving this goal, but Ibanez sure does with this GRX20.
This is certainly easy to learn on, so it's a great instrument to use as you take on the rhythm guitar style of playing. At the same time, it offers a much harder sound that should satisfy rock fans.
Sure, basswood is used for tonewood, and it's not exactly a premium option. But it works well enough that newbies won't mind.
You also get a standard rosewood fretboard with a typical maple neck. The body design is also common, as the modified Super Strat is pretty standard for many Ibanez models.
You also get a FAT 6 Tremolo bridge, which may (or may not be) suitable for a newbie. The die-cast tuners are also generic, meaning they retain tuning well but you still need to check it regularly.
Even the humbuckers are merely decent, which at this price point is a good thing.
So how us this model any good beyond the low price? The answer is that it sounds great and as regards to its power this may well be the best electric guitar for rhythm and lead in its price range.
This has lots of power in its sound, and the tone and performance level of this guitar is heads up better than most of the entry-level competition. This is the best sounding guitar in its price range.
Highlighted Features
Dual humbuckers
FAT5 tremolo bridge
22 medium frets on rosewood fretboard
Basswood body with maple neck
What I Like
This guitar rocks
Very easy to play even for bigger or smaller hands
Extremely affordable (especially when considering the quality)
What I Didn't Like
Basswood for the tone wood
Generic hardware
#6. Fender Affinity Series Stratocaster Electric Guitar
Last update on 2023-12-10 / Affiliate links (#ad) / Images from Amazon Product Advertising API
Not all guitars have a left-handed version, so it's great for our southpaw friends that this one does. This means more people can learn how to play the guitar (and play as a rhythm guitar).
This is the best Fender guitar for newbies with the Stratocaster body shape, and it has features that make it easier to play than most guitars. These features start with the C-shaped neck, which is quite slim and comfy to hold and play.
The tuning machines offer smooth and accurate tuning, and the vintage-style tremolo bridge allows you to bend the strings for expressive playing.
The 3 single coil Strat pickups along with the 5-way tonal switch allow for a wide range of tonal palettes. All in all, it's been put together nicely, with no annoying flaws either with the looks or with the features.
It's easy to play, and it really feels like it's encouraging you to practice it as often as you can. With its low price, many newbies feel that this is the best rhythm guitar for the money.
Highlighted Features
Comfy C-shaped neck
3 single-coil Strat pickups
5-way tonal switch
Satin neck finish
What I Like
Has LH version
Comfortable to play
Lots of tonal options
Nicely put together
What I Didn't Like
Only 2 color options
Case not included
The tremolo bridge can be problematic for newbies
What is a rhythm guitar?
This is a guitar that is well-suited for providing the regular (rhythmic) pulse of the music. It can work alone, but it also works great when providing the rhythm along with the drums and the bass guitar.
Basically, you strum the chords to lay a foundation of regular beats, while you also provide the background for the vocals (or a lead instrument).
How to Choose a Rhythm Guitar for Beginners
If you're a beginner when it comes to a guitar, then you may be overwhelmed by rather technical articles regarding the best electric guitar for rhythm players.
But forget about the jargon, and stick to the basics:
Great Feeling
The first thing you need in a rhythm guitar is a good feeling. You have to be comfortable, so that you can focus on the beat and not on any discomfort you may have.
This will start with the feel and shape of the neck. You need to be able to do your chords without too much difficulty, and transitioning to other chords should be quick and easy.
Then there's also the weight of the guitar. In general, a lightweight guitar is always nice but you may want a reassuring solid feel to the guitar.
The overall shape of the guitar will also affect how it feels when you hold and play the guitar. It's best if the guitar shape feels comfortable, whether it's on your lap or you're playing while standing.
Sound
For the most part, you want a versatile sound that can work for a wide range of musical genres. You're still a newbie, and you're still trying to discover what kind of musical style you'll want to play with.
You should go for clean tones, and it helps if the guitar can transmit sound well. The guitar should sound nice whether you're playing solo or with a bass guitar and drums.
Fun Factor
How fun is it to play? This is, of course, highly subjective, but you'll know it when you feel it.
It does help if the guitar looks great, especially when you get admiring glances and compliments. But it's more fun if the guitar is comfortable, sounds great, and is easy to play.
It's less fun if it breaks down too easily, of course. Also, it can be annoying if you need to keep it tuned too frequently.
Top Rhythm Guitar Brands
As a newbie, you may want to stick with the reputable brands so you have a reasonable expectation that you're getting something good for your money. Here are some brands that have fine reputations in the guitar industry.
Oscar Schmidt
This brand has been around since 1871, and the fact that they're still around speaks well of their quality. Plenty of rhythm guitar reviews mention its easy playability and comfortable handle, along with its fine craftmanship.
Gibson
This is the brand behind the iconic Les Paul guitar, and plenty of musicians (especially in rock) favor the brand. It can be pricey, though.
Fender
This is arguably the lead rival to the Gibson brand. They've been famous since 1954, when they launched the now legendary Fender Stratocaster.
Many of the best rock musicians go with a Fender, so you can't really go wr5ong with this choice. It's just that Fender shares a rather unfortunate trait with Gibson—they're both relatively expensive.
Ibanez
You may have noticed that quite a few rhythm guitarists in recent years are using Ibanez guitars. This is especially noticeable in the metal genre.
Schecter
This is a guitar brand that first started creating customized guitars. They're often considered premium guitars, though many people think that these instruments are ideal for metal music.
Epiphone
This is the brand you go to when you're in love with the Les Paul, but your budget can't afford a Gibson. They're still good guitars for the price—guys like Paul Weller (The Jam and Style Council) and Noel Gallagher (Oasis) have used Epiphone guitars.
Tips for Using and Maintaining Rhythm Guitar
Here are some tips that can help you if you want to play and take care of your rhythm guitar properly:
Get a Pro Setup
It's not often for even good rhythm guitars to be set up right out of the box. You can do this yourself, but it can be rather complicated and time-consuming to do this yourself especially if you're a guitar newbie.
Instead, take it to a local guitar pro in town. These guys have the knowledge, skills, and tools to set up your guitar the right way.
Keep the Guitar in Ideal Humidity Levels
It's bad for the guitar if it's too hot and humid, or if it's too cold and dry. Either the guitar wood will swell up if it's too humid, or the wood will shrink and crack.
Keep the guitar in a place where the humidity level is within 45 to 55 percent. Use the right case with a proper humidification system, or you can just use humidifier or dehumidifier.
Keep It in Its Case when You're Not Playing the Guitar
This is just plain common sense, so you don't get dust and heat issues with the guitar. Also, put the guitar somewhere out of the way, so that people don't keep banging into it.
How to learn rhythm guitar
Here are some tips that will help:
Use a metronome. You can even download a metronome app. This will let you practice keeping proper rhythm.
Listen closely to your favorite rhythm guitarists. Guys like Malcolm Young and Andy Summers don't just keep strumming all day.
Practice alternate chord configurations. Learn to play various chords in different ways. This will let you bring a wider range of tonal quality to your personal sound.
Improve your picking. It's not all about strumming, in case that hasn't been made clear yet. Even basic arpeggios when you play the notes of a chord in sequence can offer a nice variety right away.
How to improve rhythm guitar playing
There's an old joke about a tourist in New York asking a local: "How do I get to Broadway?"
And the local replied: "Practice, man, practice!""
The principle holds for many skills, including playing rhythm guitar.
Just keep practicing, and you'll get better.
That's why it's crucial that you have fun playing the guitar, and the top rhythm guitars are all fun to play.
It's much like playing a video game when you're having fun. If it's not fun, it's more like a chore.
FAQs (rhythm guitar vs lead guitar)
What's the main difference between a rhythm guitar and a lead guitar?

The lead guitar provides the melody, often with single notes. The lead guitar is often designed to make this easy for you.

In contrast, the rhythm guitar provides the rhythmic beat that supports the melody or vocals. Even if you don't have drums, the rhythm guitar can lay a steady beat for you to sing with.
What's more important to a band, a lead guitar or a rhythm guitar?

Consider this: when you have a 4-man band where everyone plays an instrument, often you have a lead guitar, a rhythm guitar, a bass guitar, and the drums.

But when you get to a 3-man band like The Police, you end up without the lead guitar. You just have the rhythm guitar, bass, and drums.

Heck, when you have a 2-man band, you can end up with just the rhythm guitar and the drums. That's the White Stripes.

Clearly, the rhythm guitar is more important. You can be a solo act and sing along with a rhythm guitar, but a lead guitarist needs a band for support.
Should you learn the rhythm guitar first, or the lead guitar?

Learn the rhythm guitar first—it's easier for a newbie.
Final Verdict
As you may have noticed, our list mainly consists of some of the best beginner guitars. This does make sense, since you're using the guitar to learn about playing rhythm guitar.
Of them all, we do wish you go with the Schecter Omen Extreme-6. While it's a bit more expensive, it's worth it to save your money so you can get this excellent guitar.
The Schecter brand is known for its almost fanatical devotion to quality, and it shows in the Omen Extreme-6. Among the best rhythm guitars on our list, this Schecter guitar will still be a favorite even when you become a good rhythm guitarist.