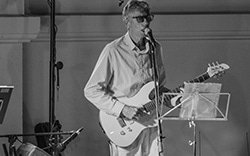 It's not surprising if you're looking for the best Schecter guitars to try out. It has a good brand reputation, with plenty of people attesting to its high quality.
You may have heard about the brand simply by checking out what many professionals play, as quite a few pros in the biz like these guitars. Or maybe you just like the "pointy" look, which really suits metal music.
While picking the Schecter brand is an easy choice to make, you may find it a tad more difficult to pick the particular guitar model to finally settle on. It would be nice if you're a billionaire and you can buy all the guitar models you like, but the rest of us may have to settle for just one (at least to start with).
Let's take a closer look at these Schecter guitar to see which one may be the most suitable for you.
Top 6 Schecter Guitars: Comparison Chart
Best Picks of Schecter Guitars
# 1. Schecter Hellraiser C-1 Electric Guitar (Black Cherry)
Highlighted Features
Red quilted maple top with gothic cross inlays
Locking tuners offer tuning stability and allows for precise adjustments
Rosewood fingerboard offers smooth action with richer sound
EMG Active Pickups provides aggressive crunch with the single coil gives you a clear fatter tone
3-piece mahogany neck is durable
TonePros components prevent any "wiggle" action for solid intonation
Plenty of people who know Schecter guitars immediately think of the Hellraiser C-1 when they think about the top Schecter guitars. In its price range, it's very difficult to find another guitar that matches its features especially if you're looking for the best guitar for metal.
But first, we need to remark on its looks, as it's exceptionally terrific-looking. If you ever see it in person, you'll marvel at how great it looks.
It's available in white or black, but the black cherry aesthetics really take the cake. You can check out the hot red quilted maple top along with the gothic cross inlays, and you'll just feel that sudden urge to rock.
And rock you certainly can with this baby. The mahogany body offers the detailed smooth sound, while the pickups give you a fat tone with lots of aggressive crunch.
While you can use this for lots of different types of music, some say it's the best Schecter guitar for metal. And you can expect this guitar to last, with the 3-piece neck looking nice and straight through the years as it handles the moisture and temperature changes well.
With the smooth and quick fingerboard, be ready to really let go and play. It's great for newbies, but as you get better, you'll find that this guitar will always match your skill level.
What I Like
Looks fantastic
Offers great tuning stability
Fine for high gain music
Terrific action
Very low humming with improved sustain
What I Didn't Like
Limited color options
Doesn't come with accessories
# 2. Schecter Stiletto Extreme-4 Bass Guitar (4 String, Black Cherry)
Highlighted Features
Quilted maple top
Mahogany body
Diamond active pickups
About 44 inches long
Comes with set of wrenches for adjustments
If your list of music idols includes Cliff Burton, Geezer Butler, Steve Harris, and David Ellison, it makes real sense when you want a bass guitar as good as this one. This won't automatically make you a good bass player right off, but it sure will encourage you to practice to get better.
This is the 4-string version, though you can go with a 5-string alternative if you want to. This also has a left-handed version as well.
Again, in this price range this guitar is astonishingly good. It compares with more expensive models very well, so getting this bass guitar feels like a real bargain.
The look of this bass guitar may target rock fans, as it looks macho and aggressive. The body shape is unique, and the inlays boost the overall aesthetics.
The tone of the bass here can be quite versatile. With practice, you should be able to get the right sound for the kind of music you're aiming for.
However, many experts say that its sound does seem to give great slap-bass tones, and perhaps some modern R & B. You may even find a place in it for a bit of jazz, which is certainly surprising for some folks.
It's very playable, with its narrow neck allowing for quick bass chords and complicated voicings. Even right out of the box, you don't have to adjust it much before you start playing.
You have a solid and heavy bridge, and the action is fine overall. It may be too solid and heavy for smaller bassists, but you should get used to the weight after a while.

What I Like
The stock strings are great, so you don't need to replace them right away
It looks terrific, with aggressive metal aesthetics
Works well for a wide variety of music (with few exceptions)
Simple volume controls
What I Didn't Like
Maybe a bit heavy for smaller bassists
Doesn't quite offer vintage bass tones
Looks weird when you play jazz
#3. Schecter OMEN-6 6-String Electric Guitar, Black
Highlighted Features
Rosewood fretboard
Maple neck
Basswood body
Pearloid semi goth inlays
Balanced tones
The Omen-6 is one of those guitars that you graduate to, once you're done with your entry-level guitar for newbies. Plenty of Schecter Omen 6 reviews come from customers who've just graduated from their starter guitars.
The good news is that if you're not really thinking about going pro, then it's going to be good enough for you for a very long time. In fact, quite a few people think that this is a good Schecter guitar for beginners
This looks great in black, with the pearloid semi goth inlays and the black chrome hardware. You have interesting body contours, along with a spotless finish.
The feel of the guitar is amazing, and it certainly helps that you have a nice balance here. It's not too heavy to be uncomfortable after hours of playing, but you have enough wood here so it sustains nicely.
Some edges of the fretboard may need some filing, but the roughness isn't really a problem. The frets are thick, so you won't have any trouble knowing where you've put your fingers.
The neck is also smooth, and for most people it offers just the right level of thickness. You're able to play with this smoothly as it's not very heavy at all.
The sound is unique—fat, thick, and with a definite hint of aggression. You can really rock with some hot lead tones, but if you dial it down the sound turns clean and balanced so that it may even be the best electric guitar for strumming the brand offers.
The hot pickups let you crank this guitar up, but it's not limited to rock or metal music. Try it for jazz, and you just might be surprised at how well it suits.
With its balanced tonal output and unique character, it's understandable why so many guitarists like this. The price may make you suspicious (it may well be the best Schecter guitar for the money), but when you get this baby you'll just want to play.
What I Like
Great for many types of music (including jazz)
You can really crank this up for rock
Looks terrific
Great hardware placement
Not too heavy
What I Didn't Like
May need some filing for some edges in the fretboard
Cheap strap locks
#4. Schecter Omen Extreme-6 Electric Guitar (Black Cherry)
Highlighted Features
Black cherry finish with quilted top
The double-cutaway body gives you easier access to the fast maple neck
24 large frets that are more comfortable and faster to play
Controls include master volume and tone with push/pull coil-splitting, plus a 3-way toggle switch
The Omen Extreme-6 is basically the souped-up version of the Omen-6. This means the share many great features, but the Extreme is just a bit better in a few ways.
First of all, the finishes for the Extreme are much more interesting and elaborate. Here you can also get the See-Through Black and the Vintage Sunburst
The body of the Omen Extreme is also made of mahogany, which is an improvement over the basswood body of the regular Omen-6. If you're going for heavy distortion, then you'll certainly like the mahogany as it offers more depth and sustain.
On the other hand, you do have to give up a bit of snap at the treble.
The Extreme also comes with an extra volume control, (one for each pickup), along with a push/pull tone control so you get a wider variety of tones from the humbuckers.
What I Like
Great for big metal riffs and heavily distorted playing
Fantastic looks
Plays like a much more expensive guitar
What I Didn't Like
Pickups can be a bit muddy for some
# 5. Schecter Hellraiser C-1 Electric Guitar (Gloss White)
Highlighted Features
White color really catches your attention
Locking tuners gives you tuning stability and lets you do precise adjustments
Rosewood fingerboard offers smooth action with richer sound
EMG Active Pickups provides aggressive crunch with the single coil gives you a clear fatter tone
Durable 3-piece mahogany neck
TonePros components prevent any "wiggle" action for solid intonation
We've already mentioned the Hellraiser C-1 on this list, so why is it here again? The main reason is that it's now in Gloss White, so it's different.
Sure, all the other features are the same except for the color. But if you want to stand out especially on stage, then you may want to consider this.
Too many guitars on stage these days are dark-colored, and many of its details can get lost when you're in a dark club. But plenty of eyes in the audience can get drawn to a white guitar, simply because you don't see too many of them.
What I Like
Looks great on stage
Offers great tuning stability
Fine for loud, metal music
Terrific action
Very low humming with improved sustain
What I Didn't Like
White color can turn yellow if you're not careful
Doesn't come with accessories
# 6. Schecter Guitar Research Omen Extreme-6 FR Electric Guitar – See-Thru Black
Highlighted Features
See-through back finish
Double-cutaway body
Fast maple neck
Fast and comfy 24 large frets
Master volume and tone with push/pull coil-splitting, plus a 3-way toggle switch
Tremolo effects
Yes, we've also already mentioned the Omen Extreme-6 as well. But this time, aside from the different color we also offer the FR version.
The FR refers to the Floyd Rose Special Tremolo, which is Schecter's licensed version of the original Floyd Rose tremolo system. This has zinc alloy saddles instead of steel, and a zinc alloy sustain block instead of brass.
What this means is that you're able to get that tremolo modulation effect that you often want in rack music. You're able to create intense to gentle pulsating effects, and come up with percussive stuttering.
If you're looking for the best Schecter guitar under $1000, you may want a closer look at this.
What I Like
Gives you big metal riffs and heavily distorted playing
Terrific aesthetics
Compares well with more expensive guitars
What I Didn't Like
Some find the pickups a bit muddy
The Floyd Rose Special Tremolo needs time for set up
How to Choose the Model for You
You can always start with your budget as your prime basis in choosing the right Schecter guitar for you at this time. The brand offers a lot of value for the money, and even the more affordable ones are good.
You should also go with the "easier" models, especially as they're often the more affordable models. These models still sound nice, and you won't have to break your budget at all.
If you're well past the newbie stage, then you may want to save some money for your guitar so you can afford the models like the Omen-6. These can be your "go to" guitars, as the sound is terrific and you have the skills to really bring out the best of what they can do.
What if you're a pro? If that's the case, you're going to need an investment so you can go with the higher end models.
The Hellraiser is a top choice if you're focused on getting truly terrific sound, and they're great for stage performances. You won't embarrass yourself if you ever need professional results.
History of Schecter Guitar brand
Schecter started out as a guitar parts manufacturer when it was first established in 1976. These parts were good enough that they became the main parts suppliers for some of the more famous guitar brands, and by the late 1970s they were making more than 400 guitar parts.
It was only in 1979, when Schecter launched their own finished guitar. They only made about 40 guitars a month, as these guitars were of very fine quality and they were quite expensive.
Lots of professional guitar players played these instruments, including such famous names as Ritchie Blackmore, Mark Knopfler, and Pete Townsend. Later on in the late 1990s, other musicians who tried out these guitars included Jay Noel Yuenger and Sean Yseult (White Zombie), Xavier Rhone (Carbon Nation), and Robert DeLeo of Stone Temple Pilots.
Where are Schecter Guitar made?
At first, these were all US-made. But production numbers were low.
When Schecter decided to go increase mass production, they settled on a factory in South Korea. Here, quality control was still a top priority but there was a focus on cutting costs as well.
Eventually, the brand started a line of US-built guitars in 2013. Some guitar parts are made in Indonesia, but the guitars are assembled from these parts in the US.
What Makes the Best Schecter Guitar for Metal?
A lot of Schecter guitar reviews mention that these guitars are great for rock music, especially metal. Let's try to look more closely as to why:
Rock Tones
The tones you get from these guitars are quite clean and clear. But there's a roughness to the tone that makes the tone unique.
The tonal structure is actually meant to work with distorted tones. The pickups in the guitar boost the signal to push tube tops so as to get these overdriven tones that sound somehow organic.
Ergonomics
Schecter guitars are comparatively easy to play, which makes these guitars such a compelling option for rock newbies. But the ergonomics of these guitars also allow you to play lead very fast, which can really put some "oomph" into your playing.
It's for this reason that these guitars are very popular among the "shredder" guitar set. It doesn't make things harder for you—you have enough problems to deal with without your guitar adding to them.
Reliability
For Schecter, quality control is crucial to their brand identity. It's why they went with a South Korean factory, and then also came back to US production.
It's why they didn't go with factory production where labor and materials were much cheaper, but quality control wasn't much of a priority.
With Schecter guitars, you hardly ever hear or read about complaints regarding the quality of the brand. Almost always, the quality of the guitar is much better than what you'd expect when you take the price into account.
Benefits of Using Schecter Electric Guitar
If you're asked why you're insisting on getting a Schecter guitar, be ready to cite these benefits.
Great value for money. This is one of the defining characteristics of the Schecter brand. It offers comparable quality with some of the models offered by other (more famous) guitar brands, but the Schecter guitars aren't as expensive even if they're just as good.
High quality. The Schecter brand has always insisted on high quality for their guitars. This is why they produced so few guitars when they first started out, and why those guitars were so expensive. While they eventually went into mass production, this focus on high quality never really disappeared.
Inspired by famous body shapes. The brand offers its own unique guitars, but it's fairly evident that some of the models have been inspired by classic designs like Les Paul, Stratocaster, and the Telecaster.
Comfy neck design. This is the kind of neck design that won't punish you if you play these guitars. The neck design is comfy enough that you can even learn on one of these guitars as a beginner.
Metal-inspired aesthetics. The looks of many Schecter guitars really rock, to put it simply. They just match whatever visuals you imagine when you're hearing metal and rock music.
Final Verdict
Are Schecter guitars good? Yes, they are, if you consider as proof the sheer number of professional guitarists who use these machines.
Many of these professional users can be downright fussy when it comes to picking a guitar, so you should be assured when so many of them deem Schecter as good enough to play.
What's more, the brand offers a special combination of high quality with affordable prices. Often, a particular Schecter guitar model can only be compared to much more expensive guitars from other brands.
For most of us, the Omen-6 should be good enough for amateur playing. It embodies the core features of the brand. But of course, if you can afford the Hellraiser (which is certainly better), then just go for it.
With its rather unique sound and terrific playability, you can grow as a musician with a Schecter in your hands. Pick among the best Schecter guitars that match your preferences and budget—and get ready to rock!
Frequently Asked Questions
Which other famous musicians have used Schecter guitars?
This is a very long list, actually. But my own personal heroes who have used the guitars include Robert Smith of The Cure, Lou Reed, and Prince (who's now playing in heaven).
Is Schecter really just for metal (or rock)?
That's not really true, despite the fact that plenty of metalheads go for Schecter. Even its logo font and image have a distinct metal rock vibe to it.
But they do offer guitars that work very well for jazz and blues, and there are even some with a rockabilly (or even country) vibe to their sound and look.
How do you best take care of your Schecter guitar?
These guitars aren't really fussy when it comes to maintenance. You just need to get each guitar a proper case, so when you're not using it you minimize the risk of any damage to the guitar.
While you're at it, put in a chamois cloth in the case. Try to wipe down the body, hardware, and fretboard as often as you can.