With how iconic the Stratocaster is, it shouldn't come as a surprise that Fender remains as one of the top 5 guitar vendors today. It seems like anyone who is serious about playing an electric guitar dreams of getting this classic piece since it is deemed as the best. But since not everyone can afford one, many turn to look for the best Squier guitar instead.
The Squier is Fender's entry-level line and it's true to its classification. It might not be at the level of Strats but it's a pretty good start if you're building up to one. The products from this line are deemed by many as some of the best starter picks for those who are getting to get serious about their guitar-playing.
If you're one of these folks who hope to get the best guitar on the market, this guide on Squier guitars will be very useful to you.
Top 6 Squier Guitars: Comparison Chart
Best Picks of Squier Guitar
#1. Squier by Fender Affinity Telecaster, Butterscotch Blonde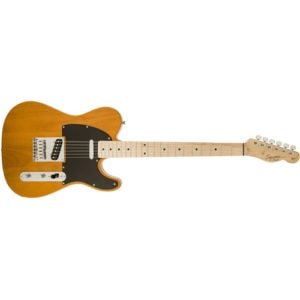 When it comes to an affordable pick, the Squier by Fender Affinity Telecaster is one of the first things that people go for. It may be a no-frills option but it's exactly what lots of people like about it.
The Affinity Tele is pretty standard. It's made with an Alder body and maple neck, has a 25.5" scale length, 21 medium jumbo frets, and the 'C'-shape neck. However, what makes it different is its 6-saddle fully adjustable, top-load bridge. Combined with a nice set of tuners, its tuning stability is rather excellent, making it one of the most compelling reasons for buyers to give the Affinity Tele a shot.
To be quite honest, there's divided opinion on how this guitar sounds. Don't get me wrong, though, as there's enough quality in the sound of this specific model despite its friendly price tag. I believe it's just that some people don't use this guitar properly for them to appreciate its clear and warm sound that comes with the classic Tele twang.
Instead of playing heavy metal and hard rock with it, however, I agree with many users who believe that it's best suited for blues, country, and jazz. Using a quality amplifier would also help you bring out the bright sound that Telecasters are known for.
Highlighted Features
Dual single-coil Telecaster pickups emulate the iconic tone of the original
Modern 'C' shaped neck provides comfort
Top-load 6-saddle Telecaster bridge provides ease in stringing and great tuning stability
Satin neck finish for comfortable handling
3-ply pickguard adds a stylish detail
What I Like
One of the top Squier Guitars in terms of popularity and value for money.
Smooth handling and playability.
Very sturdy body and neck.
Exciting color options are available.
Suited for modifications.
What I Didn't Like
Will need some setup work upon arrival.
Hardware bits are often quite loose.
#2. Squier by Fender Affinity Series Stratocaster Electric Guitar – Laurel Fingerboard
Last update on 2023-12-09 / Affiliate links (#ad) / Images from Amazon Product Advertising API
Next up is what lots of people consider as the best Squier strat, the Squier by Fender Affinity Series Stratocaster Electric Guitar. This affordable version of the iconic Fender Stratocaster is technically made for beginners but with how well it performs, it's also deemed as a nice option for players of all skill levels.
The first thing that makes this product a popular pick is its design, of course. Since it's a Strat, you can expect it to be a good looking piece. And since it's available in various colors, you can further ensure to get one that will look great with you.
In terms of build, it's solid, as what you'll expect from a Fender product. It's made of poplar and maple so it's not exactly the same as the actual Strat. However, it's still pretty solid and similar to the tone of Strats made from adler.
Equipped with a bolt-on neck, the build of this guitar is solid. This is a common construction style of Fender anyway, so they're good at it. It also makes it easier to repair and replace.
Users can expect the rich and crisp sound that Strats are known for in the Affinity Series. Thanks to its standard single-coil pickups, this guitar will deliver bright tones that are great for funk, blues, and country music.
Highlighted Features
Single-coil Stratocaster pickups offer a wide range of tones
Slim 'C' shaped neck profile promises comfort
6-saddle vintage-style tremolo bridge allows expressive string-bending effects
Satin neck finish can provide comfortable handling
Sealed die-cast tuning machines can guarantee accurate and fuss-free tuning
Poplar body material
What I Like
Has a genuine Fender DNA.
Smooth and comfortable satin finish.
Decent quality hardware.
Has a comparable sound to the MIM Strat.
What I Didn't Like
Fret edges might need to be smoothened first.
Hums quite a bit.
# 3. Squier by Fender Affinity Series Telecaster Beginner Electric Guitar
Last update on 2023-12-10 / Affiliate links (#ad) / Images from Amazon Product Advertising API
If you're looking for some of the finest Squier Guitars for beginners, the Squier by Fender Affinity Series Telecaster Beginner Electric Guitar might do the trick. Even the brand itself is recommending this product to newbies, so why not look into it?
What makes this product a suitable choice for beginners, you ask? There are quite a few good reasons but what many might agree with are the facts that it's affordable and simple.
You see, the Affinity Telecaster is fashioned after the actual Telecaster that lots of guitar players and music enthusiasts love. It's basically a more budget-friendly Telecaster, allowing beginners to enjoy the thrilling tone and sound of a Tele without breaking the bank.
The Affinity Tele, like the classic model, has the same single-cut body and the dual single-coil pickups so the key components are there. While this model's body is made of poplar and not adler,  the two guitars do not sound too different from each other, making the Affinity a workable alternative for rookies.
Another reason why the Affinity Tele can work for beginners is its size. It's thinner and lighter in weight than the actual Telecaster, making it easier to handle and work with.
Highlighted Features
'C' shaped neck profile is slim and comfortable to work with
6-saddle Tele bridge simplifies fine intonation adjustments
Dual single-coil pickups with 3-way switching allow an easy transition from one genre to another
Sealed die-cast tuning machines guarantee tuning precision with ease
Poplar body material gives it a nicely resonant tone that is similar to adler wood
What I Like
Built for beginners.
Offers great value for the money.
Guarantees durability with its solid build.
Easier to handle for younger and smaller players due to its size and weight.
What I Didn't Like
Hardware can wear down over the years.
Frets need some smoothening when brand new.
# 4. Squier by Fender Contemporary Telecaster Electric Guitar
Last update on 2023-12-10 / Affiliate links (#ad) / Images from Amazon Product Advertising API
Most Squier Guitar reviews may be for beginners but you can also get something more advanced from this entry-level range. The Squier by Fender Contemporary Telecaster Electric Guitar is a great example of this as it's a more advanced option for those who are ready to move to something with more progressive features.
As one of the latest additions to Squier's lineup in quite a while, there are a few interesting things about the Contemporary series that might also tickle your fancy. For one, as its name suggests, it's a modern option.
True to its name, the Contemporary series is made to keep up with the times and offer what modern players want in a good electric guitar. This is why the classic features of this Tele have been updated.
In terms of aesthetics, it's equipped with chrome pickup covers and matching painted headstock that make it eye-catching and current. For its playability, its classic 'C' shape neck is made to be slick and smooth.
Versatility is also something the Contemporary Tele offers. Its dual ceramic humbucking pickups are designed to create powerful tones that are suitable for various genres.
Highlighted Features
"C"-shaped maple neck with a matching painted headstock promise smooth playability and eye-catching visuals
12″ fingerboard radius and narrow-tall frets allow easy movements
6-saddle Telecaster bridge with block saddles provide excellent tuning stability
Dual chrome-covered ceramic humbucking pickups generate different aggressive tones
Poplar body material gives a similar tone to the classic adler wood
What I Like
Its contemporary design makes it an attractive pick.
Versatile when it comes to the music it can make.
Requires minimal setup adjustments upon arrival.
Offers good value for the money.
What I Didn't Like
Minor quality control issues were experienced by some buyers.
# 5. Fender Squier Affinity Series Stratocaster Guitar
Last update on 2023-12-10 / Affiliate links (#ad) / Images from Amazon Product Advertising API
Many would agree that the Fender Squier Affinity Series Stratocaster Guitar HSS is the best Squier Fender Stratocaster for the money. It's not necessarily the cheapest but its range of features makes it a great choice for a lot of budget-driven guitarists.
Why? There are two main reasons for this. One, it's a Squier Strat which makes it more affordable than an actual Strat. And two, it's of the Squier Stratocaster HSS variety.
Being a Squier Strat already makes this product a practical pick but as an HSS, its functionalities are further boosted. HSS refers to the kinds of pickups equipped in this guitar, meaning two are single-coil and one Humbucker.
This setup gives it more versatility as it can suit different genres of music, with the help of its five-way switching system. As a result, it suits not just classic rock, jazz, blues, reggae, indie, and indie but with the beefier sound of the Humbucker, it can also work well for metal and rock.
Also referred to as the Fat Strat, the Affinity Strat HSS is one of the highest-rated HSS Strats in its price point. It can also be a good choice for beginners since it's affordable and relatively easy to wield. Of course, its versatility is an attractive point, too, making it an even more practical pick.
Highlighted Features
'Large' 'C'-shaped maple neck profile earned it the nickname 'Fat Strat'
Indian laurel fingerboard offers some visual distinction
HSS configuration provides versatility in terms of sound
Vintage-style synchronized tremolo bridge for fine intonation adjustments
Chrome hardware adds stylish details
What I Like
Offers great value for your money.
Highly versatile in terms of sound.
Beautiful and smooth finish.
Durable construction guarantees longevity.
What I Didn't Like
Some fret buzz is reported by users.
Hardware pieces might need to be replaced in the future.
# 6. Squier Bullet Strat HT – Laurel Fingerboard
Last update on 2023-12-10 / Affiliate links (#ad) / Images from Amazon Product Advertising API
My final pick for the best Squier Stratocaster guitar is the Squier Bullet Strat HT. This series is a tight competitor of the Affinity but since it's lower in price, it proves to be a very attractive option for many.
The Bullet Strat is also a good pick for beginners. Its 9.5 fingerboard radius is more comfortable to work with for newbies.
It's important to note, however, that the Bullet Strat HT is different from the regular Bullet Strat. This item has a hardtail bridge so its tuning and intonation are simpler. It doesn't have the synced tremolo bridge.
It's also equipped with a humbucking bridge pickup and single-coil neck and middle pickups so it offers a variety of tones. These make it very versatile in terms of the genres it can play.
And while it has a laurel fingerboard it's still very comfortable to play. Since there's no noticeable difference between the feel of laurel and rosewood, you don't have to worry about the feel of this fingerboard.
Highlighted Features
'C'-shaped neck profile makes it comfortable to handle
6-saddle hardtail bridge promises better tuning stability and sustain
Humbucking bridge and single-coil neck and middle pickups offer tone variety and versatility
Basswood body material emulates the tone of alder
Satin neck finish offers smooth handling
Laurel fingerboard promises comfort
What I Like
Comfortable handling and overall feel.
Versatile tone and sound.
Possibly the best Squier Guitar for the money.
Excellent tuning stability.
Beginner-friendly design.
What I Didn't Like
Some experience continuous buzzing.
Switches can feel a bit stiff.
History of the Squier Guitar Brand
Squier may not be one of the oldest musical instrument manufacturers there is but it still has a notable legacy. The history of Squier Guitars goes back to the late 19th century when JB Squier decided to build and repair violins in Boston.
His creations were soon deemed as fine examples of instrument craftsmanship that he became known as the "American Stradivarius". While it was his son who actually founded the VC Squier Company that eventually became the Squier Guitar brand, JB Squier is still worth mentioning for his great achievements and laying down the foundation of this brand.
The company built its name from its high-quality products at affordable prices, primarily violin strings. They catered to students and partnered with schools.
The VC Squier Company eventually grew to manufacture all kinds of string-related products as well as new electric instruments. In the 1950s, they began supplying strings to Leo Fender who became known for creating new kinds of electric guitars.
By 1963, the VC Squier Company became an official original equipment manufacturer for Fender Electric Instruments and was eventually acquired by them 2 years later. The Fender Squier line was then introduced in 1982 to compete with lower-priced, Japanese copies of their Telecaster and Stratocaster guitars.
Where are Squier Guitars Made?
Squier Guitars are manufactured in various locations including the US, Japan, Korea, China, Indonesia, India, and Mexico. The products each location churn out have different reputations and are preferred for various reasons.
What Makes a Good Squier?
Being a low-priced range by a high-end guitar brand, it shouldn't be surprising that many want to know what makes a good Squier guitar. The answer to such a question can be very helpful in your selection process.
There are quite a number of factors that make a Squier guitar worth your while. For starters, the choice of material and construction method are crucial to ensure the durability and sound.
Of course, the price tag matters, too. It can determine how much of a steal you'll get from a specific product.
However, since the qualifier 'good' is very subjective, it should also be noted that your preferences and requirements are major factors in this classification as well. The best Squier guitar for you should suit your needs more than anything.
Things to Consider Before Buying the Best Squier Guitar
Speaking of the right Squier guitar for you, you might be wondering about the things you should consider before choosing one. So here's a quick rundown of the most important points to keep in mind:
For beginners, go for an affordable, durable, and versatile option. Doing so will allow you to explore your interests and capabilities without having to commit a serious amount of money from the get-go. Don't cross out options like the Squier by Fender Starter Packs as they can also be solid choices for you.
Try to get to know what you need. If you already have some idea about electric guitars, try to figure out what you need as a guitarist. Consider the genre you'd like to play, how you'd like the handling to be like, or maybe if you want to modify your guitar among other things. These can help you narrow down your options from the brand's offerings.
Get to know your options. Read Fender Squier Strat reviews as well as Squier Tele reviews. They will help you greatly in weeding out your choices.
Don't just base your decision on the price tag. Cheap Squier guitars are attractive but they might not exactly be the perfect match for you, especially if you're not a beginner anymore. Consider spending more not just on the guitar as well but also on the other equipment you'll use with your Squier.
Think of the look you want. Squier guitars sport different looks, especially since they come in various colors. A Squier Stratocaster in black might look more appealing to you than a Contemporary Telecaster in green.
Tips for Using and Maintaining Squier Guitar
Squier guitars are not necessarily meant to be used for a lifetime but it doesn't mean that they're of the disposable kind. In fact, with the proper use and care of the best Squier guitar, you can make them last quite a while.
How? Here are some expert tips to remember:
Store and transport your guitar with care. When not in use, make sure to put it somewhere safe. When moving it about, use a nicely padded case to keep it from getting bent, dented, or damaged.
Clean your guitar properly and regularly. Wipe it down with a dry, soft, clean cloth every after use to remove the oils and dirt from your hands then regularly clean it using a guitar cleaning agent.
Have it checked by a professional occasionally. This will ensure that your guitar is kept in good condition.
Change your strings regularly. The frequency of this activity depends greatly on your preference but it's best to do it quite often to ensure that you can do some maintenance cleaning and check-up as well as revitalize the sound of your instrument.
FAQs
Are Squier guitars any good?

With their price and features, they can definitely be good options for those who are on a budget or are looking for their first electric guitars.
Why are Squier guitars cheap?

The choice of materials and craftsmanship are the two main reasons why Squier guitars are way more affordable than Fender guitars. They're not bad at all but the quality of the two lines is clearly different.
Can I make my Squier guitar sound better?

Yes, there are some techniques and tutorials that you can find online to do this.
Final Verdicts
After all that's said above, the time has now come for me to reveal my top pick among my top choices for the best Squier guitars. While all of them are great, the Fat Strat or the Affinity Stratocaster HSS would be my top recommendation.
As my Squier Stratocaster review above notes, this product is one of the most versatile options available in terms of the genres it can work with. Compared to the Teles with their country twang, it can certainly suit the music choice of more guitarists. It also meets the requirements of a good Squier guitar in terms of build and material choice.