A Fender telecaster pickup or a Tonerider tele set? A Seymour Duncan or a DiMarzio?
These are made by popular, influential brands, but which is the clear winner among the best telecaster pickups for rock that you can find today?
There are plenty of criteria, factors, pros and cons to filter through. You may even need to invest a lot of your precious time reading all these reviews.
While reading as many reviews as you can is a good idea, it may also help to just go find a single review with the most comprehensive listings and comparison.
Fortunately, we have prepared for you here a complete rundown of some of today's most famous brands or makers of telecaster pickups. From a comparison chart, product dimensions to each of its powerful features, we hope you can arrive at an informed decision after reading this.
We hope you also enjoy this list as much as we enjoyed making it!
Top 6 Telecaster Pickups for Rock: Comparison Chart
Here are some important details you may want to note down among the pickups we compared. The details here are official product descriptions.
Best Picks of Telecaster Pickups for Rock
#1: Fender P. Vintage Telecaster, Reissue
Last update on 2023-10-02 / Affiliate links (#ad) / Images from Amazon Product Advertising API
There are many reasons why this Fender reissue is listed among reviews of best pickups for telecaster. As a start, this is a vintage release with a tele twang format from an enamel-based magnetic wire, and almost every musician digs anything vintage.
The features above make this an even stronger contender among the best tele pickups today mainly for its flush-mount pieces that guarantee smooth string response. The last thing you want from your pickup is delay from your finger movement.
I highly recommend this telecaster if you're all about reliving that cool 1950s vibe that's filled with Tele twang effects. You can also get from this version that trademark warm edge probably only found in a Telecaster.
Other features you can enjoy from this telecaster include its copper plate shield to give you a livelier sound and a wax-potted layering for robust protection. You also get a fiber bobbin design in its construction that looks accurate to the period it is inspired by.
Another good thing about this release is that it will work well with any type of Tele guitar that you have. That's very ideal for improving the clarity and sound of whatever music you're covering.
This is a standard vintage pickup package though, so if you're looking for an RWRP feature in this one, you won't be getting it.
What I Like
You get a distinctive, period-specific design that's accurate to its inspiration.
There's a warm edge in the sound that's unique to a telecaster.
You get a tele twang magnetic wire for this to give you a vintage audio effect.
This is made with flush-mount pieces to make sure you get sensitive response to finger movement.
What I Didn't Like
There's quite plenty of wires to set up.
You only get a tiny bit of gain or bit in the sound.
#2: Noiseless Fender Generation 4
Last update on 2023-10-02 / Affiliate links (#ad) / Images from Amazon Product Advertising API
When it comes to quality sound that's free from unwanted noise and hums, then the Fender Generation 4 will be a strong contender. I recommend this to you if you want to retain an authentic kind of vintage in your performance without sound loss.
Of course, every brand of telecaster pickup says they are vintage. What makes this release extra special seems to be the way it has achieved a unique sound fusion.
This fusion allows you to enjoy a leveled-up pickup technology that offers you crisp and clear cleans but keeping your tones still neat, voluminous and overdriven. This allows you to reach full power in your rock performance quickly.
Another merit of this pickup may come from the way its low end is designed. Its unique design gives you a highly defined high but still keeping the mids suited to your needs for a punchy sound.
This lets you enjoy a noiseless, clean telecaster pickup that powers you through whatever type of mix you have.
Reviewers of this release can also appreciate the fact that you can get to balanced volume with this one quickly because they're easy to set-up. It really depends on how you set them up.
What I Like
You get a vintage sound in this pickup without the unwanted hums, buzz or noise.
You can retain your favorite pickup settings because the controls are easy to set up.
There's a unique sound fusion that keeps your tones clean but still overdriven.
What I Didn't Like
You may experience difficulty setting up the tone.
Its output could be lower than you'd expect.
The thick lead wiring you get may be a problem.
#3: JBE Joe Barden Modern T-Style Pickup
Last update on 2023-10-02 / Affiliate links (#ad) / Images from Amazon Product Advertising API
There are many factors that led to why the Joe Barden from JBE Pickups is one of the best, and one of the reasons is how perfect it is for modern country sound. Rock players may love this, too, for its fat tone effect.
If you're after for a tele pickup sound that has its hum already eliminated and noise cleaned up, this might be where to start. Its staggered blade design can even get you to ensure a more balanced finger sensitivity, which is perfect for everyday practice.
What you may also love about this pickup is that it promises to give you the reverb feel and effects that's unique to modern country rock. Vintage and expanded fidelity are other strengths of this telecaster pickup.
If you're into aggressive vibes and tone of your performance, then you also have a lot to love from this since it is made for such a distinct strong sound. This is ideal if you want to put a punch in your performance piece.
Another great thing about this pickup is that it has a much heavier winding in its coil. Many brands would advertise that their wiring quality is above standards, but there are at least nine customer reviews I can read to verify for this JBE pickup.
What I Like
You get a strong, durable coil winding in its casing.
This is made for a strong, robust sound unique in modern country rock.
You also can play this in other rock styles.
This is made to be highly compatible with standard pickup routs of the Tele bridge variety.
What I Didn't Like
You may not be able to read a lot of customer reviews about this model.
You have limited modification settings.
Its adjustable output settings could be inferior than you expect.
#4: Seymour Duncan ST591
Last update on 2023-10-02 / Affiliate links (#ad) / Images from Amazon Product Advertising API
There's a lot to say about the ST591, especially about how it is currently ranked as #334 in Best Sellers Rankings of the best pickups to get.
It is perhaps how the ST591 is made to have a distinct, PAV-voiced humbucker sound that makes it a stand-out today. Not many brands can achieve a fusion of this kind, and for that I recommend this for you.
Another strength of this version is that it's designed to play nicely with any jazz, blue or country music that you can think of. I recommend this for you if you feel like exploring different genres and yet still have quality sound.
There's a twang you can get in this pickup that's described to be sort of "beefed up". What this means is you get a chunky but warm tone that's smoothly reminiscent of those 60's rock and roll music.
There are four conductors built in this package, and that may be a lot and can be a bit bulky. Just make sure your bag can handle it.
If you already have a Vintage Rhythm set with you, you'd be happy to know that the manufacturer singled it out to be perfect pair for this. What you get in the pairing is a quiet rig that's totally out there.
What I Like
This is a pickup that works well with your Vintage Rhythm set for a quiet rig effect.
You can play this pretty much with any standard, well-balanced instrument.
This works well with a set of beautifully designed fingerboards in maple or rosewood theme.
What I Didn't Like
You are limited to bridge pickup effects for telecaster models.
You may or may not get this with a pair of mounting screws.
You can experience difficulty in pairing with 3-saddle bridges.
#5: Fender Pure Vintage '64 Telecaster Pickup Set
Features
Enamel-coated magnet wire delivers warm vintage-style tones
Alnico 5 magnets add more focus and enhanced dynamics
Staggered bridge pickup polepieces balance volume and output across every string
Copper shielding plate on the bridge pickup produces a more lively tone
Period-correct fiber bobbin construction
1 year Warranty Included
Enamel-coated magnet wire delivers warm vintage-style tones
Alnico 5 magnets add more focus and enhanced dynamics
Staggered bridge pickup polepieces balance volume and output across every string
Copper shielding plate on the bridge pickup produces a more lively tone
Last update on 2023-10-02 / Affiliate links (#ad) / Images from Amazon Product Advertising API
Made in a beautifully bold American Vintage 64 color, this Fender Telecaster is nothing, but pure vintage. This is designed, too, so you can relive the 60s authentically both in your sound and riffs.
The vintage bobbin design that you can find in its construction or build is genuine. If you're all about being authentic and specific to that period, this may be the one to get to please your taste.
The fact that this is made by Fender makes it even more of a quality pick. From its precise specs to the technically durable quality of its material, this Fender is all about boosting tone and performance.
It's single-coil by default but you may add extra specifics and supplements to get you to your desired tone levels. Are you digging for some hotter and vintage-accurate 60s sound?
Then this is the direction to go.
You may also appreciate how this vintage sound is still able to deliver crystal clear, clean and versatile notes. Plus, the Tele twang vibe you get with this one is definitely hotter than any pickup you could probably get.
Versatility is another area in this pickup that deserves special mention. Many telecasters limit you to one or two sound or guitar pairings, but this one is for general pairing of whatever guitar brand.
What I Like
You get maximum versatility with this one so you're sure that any guitar compatible will be a strong pair.
You get a tele twang vibe in this pickup that's hotter than you'd expect.
Crystal clear sound is still delivered despite the range of tone it gives.
There's period-specific and accurate 60s sound in this vintage pickup design.
What I Didn't Like
There's a need for a much larger hole to rout to put a bridge pickup.
You may experience issues in pairing this with a highway one tele model.
#6:  Fender Custom Shop '51 Nocaster
Last update on 2023-10-02 / Affiliate links (#ad) / Images from Amazon Product Advertising API
There's always a need to level up in your guitar game, and this Fender Nocaster could be the pickup you need to do that.
We can highlight this pickup's strengths by first saying that it's got an enamel-coated finish in its magnet wire to give you that warm vintage effect in the tone. If you want a variety in your tone range but want to master the vintage effect, knock yourself out with this one.
I also recommend this if you're looking for strong copper base plating in your pickup. The tin-plated base in this one results to a more durable or long-lasting pickup that lasts for years.
The warranty that comes with this gives you confidence that what they promise in the specs will last you for a very long time. Use this pickup everyday and take confidence that it won't die on you.
I also personally like that this comes with Alnico magnets. There are actually three magnets in this one, and that's more than enough, it seems, to give enhancement to your dynamics and focus.
Finger sensitivity is a big issue among musicians, and if you're one of them, you'd like that this comes with flush-mount material in its magnets. Finally, no more string response issues.
What I Like
You get nothing but strong, enamel-coated magnet wiring to make sure your vintage sound is warm and authentic.
This is made with flush-mount magnets for better string sensitivity.
The Alnico 3 magnets in this kit empowers your performance with much more focus and range.
A tin-plating is installed in its copper base for durability.
What I Didn't Like
You only get 1 Year Warranty, not Lifetime.
You may not get the kind of noiseless effect in this one, if that's what you're expecting.
You get lesser output than is expected, but you still get a vintage twang.
You may not be able to pair this with a SX Furrian.
Things to Consider Before Buying the Best Telecaster Pickups for Rock
If you're wondering whether or not the one you're about to buy is among the best noiseless telecaster pickups in the market, then read on. We have compiled in this section some of the essential things to consider before purchasing a telecaster pickup.
Find the players – it's not a guarantee, but if you want more accuracy in your telecaster, it pays to research the telecaster players themselves. Go look for the type of telecaster pickups that your favorite rockstars used, then find them.
Some of the famous telecaster players of all time are Jimmy Bryant, Barney Kessel, Freddie Stone, Steve Cropper, Muddy Water and Roy Buchanan.
Check the basic features – you have to build your set on a good, solid foundation. So before you go for the extra features, check if the telecaster pickup you're about to find are reliable in the fundamentals.
Does it have a solid body? Is it made of maple or does it have a bolt-on neck? Are the fretboards maple or rosewood?
Is it single-coil or double? Does it have a 3-position pickup switch that comes with a warranty? These are examples of the basic questions you may want to ask the seller.
Learn the specs and features – it makes little sense to invest in an expensive telecaster pickup if you don't understand what its features do. You have to go find online or in a bookstore the comprehensive guide on what each telecaster pickup feature does.
Check the differences for yourself – it's better if you check the telecaster you're about to buy in a physical store. Avoid online purchases.
When you're in the store, check and compare the different features of the telecaster models, and see if their finishes, hardware, and other additional effects are suited to what you want.
What Are the Best Telecaster Pickups?
Instead of namedropping brands and models here of the best telecaster pickups for classic rock that are available online, it's better to answer that question by saying what makes one the best.
For me, the best telecaster pickup is the one that have been reviewed by many buyers already and are given thumbs-up approval. Most of these come from Fender and Seymour Duncan brands.
Fender already has a reputation of being in the game since the 1950s, so it sure is a reliable choice if you want a safe choice. You always want the best for your investment, and going for a brand that's been there for long could be a wise decision.
How to Setup and Configuration Telecaster Pickups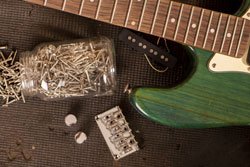 Even if the one you have is one of the best telecaster pickups for country music, that won't be the case if you don't know to set it up or configure it. Here's a simple guide to remember:
Prepare the tools – you have to arrange your tools first and put them near you so that when you're ready to set your telecaster up, you won't be wasting your time looking for them. Some of these tools include a Phillips head screwdriver and a machinist ruler.
Measure the height – After tuning the guitar and taking its current measurement, you can now start measuring the pickup's height by adjusting the 1st string onto the last fret before holding it down.
Then you can use the machinist ruler and measure the distance starting from the pole piece's top right to the 1st string's bottom. You can then repeat this process for the 6th string until you're finished with the remaining pickups. For more information about this, go to the website of the brand that made your pic and see the full instructions.
Adjustment screws – another thing to calibrate in the pickup is the adjustment screws located on the pickup's sides. Make sure that the adjustments are made slowly, until the corresponding specs you want are made.
How to Use Telecaster Pickups
To use any of the top telecaster pickups for rock in the market today, you need to remember the following:
Go to the brand's official website – there are many differences in the kinds of pickups you can get in the market, and to know how to use the one you got should be in reference to the brand's website. The website contains the legitimate manual you need to use it.
Silencing squeals – you may experience feedback with your telecaster, and so it helps to know how to control them to your preference. One way to do this is to try to swap the default spacer springs to a surgical tubing, preferably one that's made in the 50s theme.
Upgrading bridge plates – another thing to remember when using a telecaster is that you can increase your access to the strings by going for models that have lowered sides as its design.
FAQs
What's a typical feature of telecasters?

A Telecaster is typically designed to have a pair of single-coil pickups.
Can I trust a Mexican Fender?

Don't. It's not worth it.
What's the Telecaster with the most outstanding sound?

It is arguably the American Original 60s Thinline telecaster. The James Burton model is also noteworthy.
Final Verdicts
After a thorough comparison and analysis of each pickup's features and specs, my verdict is that the Fender Pure Vintage '64 Telecaster Pickup Set is my clear winner.
I chose this model because personally I'm very much biased towards Fender. It is a brand that still stands strong today, and it means, among many things, it only creates quality products.
This Fender pickup, unlike the rest, has achieved a unique balance in making its design look authentically vintage but still give a powerful, period-accurate tele twang. Truly, there's little wonder why many reviewers can see that this is one of the best telecaster pickups for rock and roll that's still out in the market.