We get it: you're a complete, hands-down fan of Travis Tritt and practically everything he does you want to know about, follow or dig. But have you ever wondered what kind of guitar does Travis Tritt play?
You have so much time right now and what better way to spend these idle hours than to find out the Travis Tritt guitar so you can buy it or at least, if it's expensive, save your day job money for it.
Here's everything you might want to know about the Travis Tritt Bluegrass legend that has carved out a special place in your heart today:
Who Is Travis Tritt?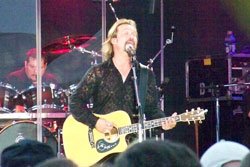 So why would anyone care to know about Travis Tritt a man and his guitar? Perhaps the first reason is that Tritt is already an established, respected songwriter and actor.
Initially signed by Warner Bros. Records, Mr. Tritt has been a renowned performer in the area of country, gospel, Southern Rock and even blues music.
You may even have heard of Mr. Tritt associated with musical acts of Dana McVicker, Ricky Skaggs, Marty Stuart and Gregg Brown. His dedication to his work has established him to be a Grammy-award winning musician.
In fact, it's not a stretch anymore to say that Tritt is a distinctive singer in America whose vibrant showmanship has entertained the global audience for a long time.
By the way,  the guitar that Travis Tritt is using is different from Josh Travis guitar. Josh is a metalcore band member of Glass Cloud, while Travis Tritt is a country music musician.
The Official Travis Tritt Martin Guitar
So let's get to the core of this article: what is the guitar that Travis plays? Well, actually, there's a long answer here because over the years Mr. Tritt has been given the opportunity to play so many kinds of guitar brands.
But the short answer here is that there is now an official guitar named after him, and that is the: HDC-40 Limited Edition Travis Martin Guitar Edition.
This guitar was officially brought to the market at a 2009 Summer Namm program in Texas during Tritt's celebration of being in the business for 25 years already.
Specs and Features of the Travis Martin Guitar Edition
What makes the Travis Tritt Signature Guitar distinct from the rest is its red Adirondack spruce top that it has paired with a robust sports back and sides that are made of rosewood sourced from Madagascar and is known to be one of the rare types of wood today.
Its cutaway body has a center ring and a black pick guard that gives it a bold, solid look. You get a pearl herringbone design with this one that goes well with the floral details found in the guitar's inlays.
You can also see an engraving on the fingerboard that says Martin "Vine of Harmonics". The fingerboard by the way is made of ebony and goes elegantly well with Tritt's signature that you can see written on the inlay of the 18th and 19th frets.
Another nice thing about this signature guitar is that it has a classic dreadnought shape. What this means is that it can received an impressive rounded cutaway of about "000" depth.
If you're looking for that perfect balance between style, elegance, function and nostalgia, then I can suggest this guitar to be the one truly to suit your preference.
The low oval neck here also delivers to the user a diamond volute that has a carving made of authentic and delicately sourced mahogany wood.
Features:
Elegant spruce top made of regal Adirondack wood material
The back and sides are even more detailed because of its rosewood material
The low oval neck it has is modified to have a comfortable fit
You get a "45" Rosette Style in each model
The active electronics use here are of Martin Gold Plus Natural 1 quality
If you want to see Travis Tritt in full action enjoying the features that his signature guitar can give you, see this video below:
Did You Know?
 It was a long time coming before this Travis Tritt Signature guitar was borne into the market. It was not until 2007, after 25 years in the business, that the world finally realized that it needed to commemorate the Grammy-award-winning history of the musician.
Many of the appointments you can get from the HDC-40 Travis Tritt Limited Edition guitar are sourced from the personal custom D-45 style that Travis Tritt already had been using in his previous Martin & Co. guitars.
In 1992, Travis Tritt won the Grammy Awards for Best Country Collab with Accompanying Vocals for the song "The Whiskey Ain't Workin". This song was in collaboration with Marty Stuart.
In 1993, he won the Country Music Association Vocals of the Year for the song "Honky Tonkin's What I Do Best"
 Feedback of the Public for the Travis Tritt Guitar
Many of the responses that the guitar received resonate with the humility and pride that Travis Tritt expressed about the honor of having a guitar named after him.
Their response showed that the guitar is one of the most professional guitar models today and has been designed with the keenest attention given to its details.
Conclusion
So there you have it: consider yourself schooled about what kind of guitar does Travis Tritt use. To briefly sum it up, you learned here that in 2007, the guitar manufacturer C.F. Martin and Co. had collaborated with Travis Tritt to produce a signature guitar named after him.
If your friends who are fans of the musician want to also know what kind of guitar does Travis Tritt play today, you can now have this answer ready for them. Enjoy your day!