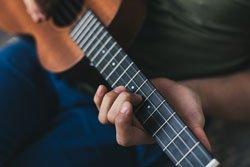 It's fun to learn trivia about our favorite musicians. For whatever reason, if you ever wondered what kind of ukulele does Grace Vanderwaal have, then this might be the article to give you the right answer.
The short answer for this one would be that the miraculous, ukulele-playing America's Got Talent star already has her own signature Grace Vanderwaal Ukuleles of two different types.
Made by Fender, these kala fruit ukuleles made after her should be a reason many of her fans such as probably yourself would be all in a rave about.
Let's explore more in detail what the specs and features are of the two types of ukulele Grace Vanderwaal has in store for us all.
Youngest Artist to Receive A Fender Signature Ukulele
The first interesting thing about the Grace Ukulele is that it's made for an artist who became the youngest one to have received the honor of a ukulele named after her by Fender.
With her name engraved on the Fender ukulele tuner or peghead, owning one of these should be one of the thrilling, Fangirling moments that her fans can experience.
Dubbed as the Ukulele Got Talent star, Grace VanderWaal has already inspired a lot of young songwriters and ukulele players to reach their full fame potential. The fact, too, that VanderWaal was the 2016 Season winner of America's Got Talent made her an even popular sensation.
The Grace VanderWall Signature Ukulele Specs and Features
Last update on 2023-12-10 / Affiliate links (#ad) / Images from Amazon Product Advertising API
So what ukulele does Grace use? She uses two types. The first one would be the Grace VanderWaal Signature Ukuleles and they are a concert-size type of ukulele, which arguably may be the smaller variety among the types out there.
With a body made of authentic sapele wood and coated with an elegant color finish, this America's Got Talent ukulele is something that many young songwriter and musicians would love to own.
Distinct Fender-style Peghead
What gives this ukulele its distinguished appeal is how Fender gave it its trademark peghead. This means that the ukulele pretty much looks like a miniature version of Fender's Telecaster peghead, right down to the four tuning machines found in the sides.
Amplified To Perfection
You could also say that Grace was partly the designer of this one since it met with her demands to make the ukulele more amplified. As a result, you get the standard Fishman's Kula electronics.
This set-up consists of a pick up that's located right under the saddle of the ukulele, as well as a preamp that's mounted on the side, complete with controls for bass, volume, treble and midrange.
Speaking of the preamp, there's an added default tuner with this one, which can come in handy even if you're using this without amplification.
This doesn't lag behind in style, too. It comes with a delicately designed gold sparkle rosette as its detailed decal, with its tuning machines enclosed with a vintage-style, gold stain.
The natural gloss you get with the ukulele will elevate it into more than just an instrument, but an apt memorabilia to show tribute to the artist that awed and moved and shocked millions.
Add to that is the fact that this one comes with a sturdy gig bag with backpack straps to make sure that lugging this around won't be a hassle even in commutes or overseas travels.
This ukulele model also flaunts a loud, bold but not annoyingly buzzy sound. With the full, amplified and maximum bass headroom that comes with the ukulele, you can elevate the sound to a richer complexity just by simply doing a forceful strumming.
Grace VanderWaal Signature Ukulele Specs
Concert-size
Has a sapele top, sides and back
The neck is of Nato design
Has elegant walnut-type bridge and fretboard
Has a 15-inch level of scale
Nut width is about 1.37 width
Comes with gold-type tuning machines
Designed in the United States, Manufactured in Indonesia
The Grace VanderWaal Moonlight Ukulele Specs and Features
Last update on 2023-12-10 / Affiliate links (#ad) / Images from Amazon Product Advertising API
The second type of ukulele that Grace uses and is named after her is the Grace VanderWaal Moonlight Ukulele. Here are some of its neat features:
Smallest Type of Ukulele
The first advantage of this limited edition ukulele is that it's of the smallest type out there. Which means you can practically carry this around even when you're just travelling light.
This is perfect when you want to go camping with your friends and you want to impress them with your ukulele cover of all of Grace VanderWaal's songs using her actual ukulele.
Solid Mahogany Body
Because this is made of authentic mahogany elegantly coated with satin navy blue finish, expect to strut in style while lugging this around. You can also expect for this to last for as long as you want it to be because of mahogany's reputable strength and shelf life.
Beautiful Coating
There's also a Fender headstock with this type paired with a golden rosette decal that has a blue coating color similar to the color of the body. This series also comes with open-geared tuning machines.
It might be a disadvantage that this model comes with no electronics and will come to you without an accompanying case. It would then be a bit hard to see this one being played in many of Grace VanderWaal's performances.
Bold and Loud Sound
If you're expecting that this Grace VanderWaal Fender ukulele will be as bold and loud as the personality of the artist herself, then you're right on target.
Like the first type, the built-in tuner for this one works as charming as Grace herself. Even if you plut it into a variety of mini charge amps, it will work as intended and as delicately crisp and clear as can possibly be expected.
I recommend to plug this one in, though, into a Firshman Loudbox amp, especially if you're aiming for open mics or live-gigs that demand the sharpest ukulele precision. However, you should expect this one to be of quiter sound than the first type.
If you're looking for intonation and tuning stability, the first type and the second type share the same level of excellence in such criteria.
Grace VanderWaal Moonlight Ukulele Specs
It is soprano-size ukulele, so expect this to be of the smallest type, perfect for travels
Has walnut fretboard and bridge for elegant vibe
It has a 13.6 inch scale for maximum tone variety
37 inch cut width in the nut for accurate intonation
Already comes with open-gear tuning mechanism or machines
Proudly designed in the USA but manufactured in China
 Conclusion
So there you go: you just got schooled into the two brand-new, limited edition signature series of ukuleles named after the phenomenal Grace VanderWaal. Wasn't that nice knowing another trivia from an artist you admire?
As a summary: the two types of Grace's ukuleles today are the Grace VanderWaal Signature Ukulele and the Grace VanderWaal Moonlight Ukulele. These are both reliable ukuleles for live gigs, open mics or even a large scale concert.
If any of your friends who are fans of That Sensational 12-year Old Phenomenon and they want to learn more of what kind of ukulele does Grace Vanderwaal have today, then feel free to share this around and spead the love for her and her music. Have a musical day!